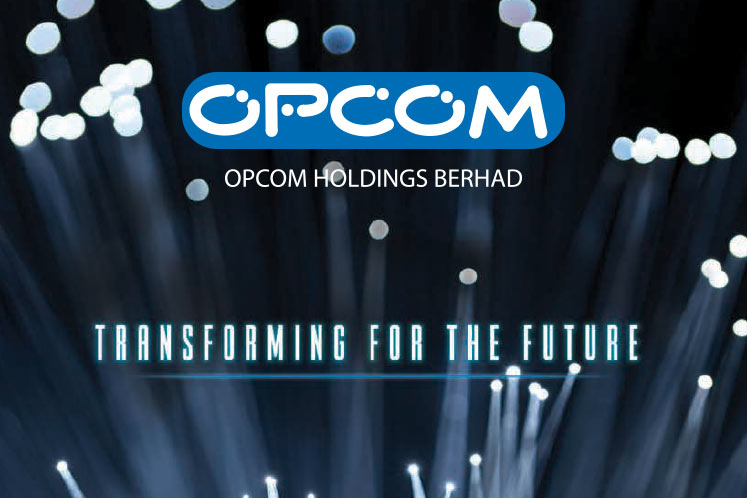 KUALA LUMPUR (Aug 24): Fiber optics cable company Opcom Holdings Bhd's net profit rose 20.5% to RM833,000 in the first quarter ended June 30, 2018 (1QFY19) compared with RM691,000 in the previous year on lower sales, distribution, finance and operating costs.
In a filing with Bursa Malaysia today, Opcom said its quarterly revenue, however, fell to RM17.85 million from RM22.46 million a year ago due to lower supply of fiber optic cables, trading of industrial materials and engineering services work.
Opcom said its total manufacturing revenue decreased by 9% compared with last year's figure.
"Revenue from our fiber optic cable decreased by approximately 14.9% and the revenue contribution of the thixotropic gel business in the current quarter was consistent with the preceding year's corresponding quarter," it said.
On its trading and engineering services, Opcom said the decrease in revenue by 53% in the current quarter versus last year's corresponding quarter was due to decreases in trading of industrial materials and engineering services work.
Going forward, Opcom is hoping that the increased diversification and the group's export business will contribute to its revenue and margin improvements.
At the same time, the group is expecting the financial year ending March 31, 2019, to be challenging taking cues from the domestic and global business environment.
"Geopolitical uncertainties and the ongoing trade war between the US and China may have potential negative effects on our businesses.
"The group's profit margin continues to be under pressure from a sustained increase in raw material prices, volatile exchange rates fluctuation and limitations in passing increased cost to its local customers in the short and medium term," it added.
Shares in Opcom, whose major shareholder is Kedah Menteri Besar Datuk Seri Mukhriz Mahathir who is also the son of Malaysia's seventh Prime Minister Tun Dr Mahathir Mohamad, closed three sen or 2.59% lower to 94 sen, giving it a market capitalisation of RM151.58 million.