This article first appeared in Forum, The Edge Malaysia Weekly, on September 11, 2017 - September 17, 2017.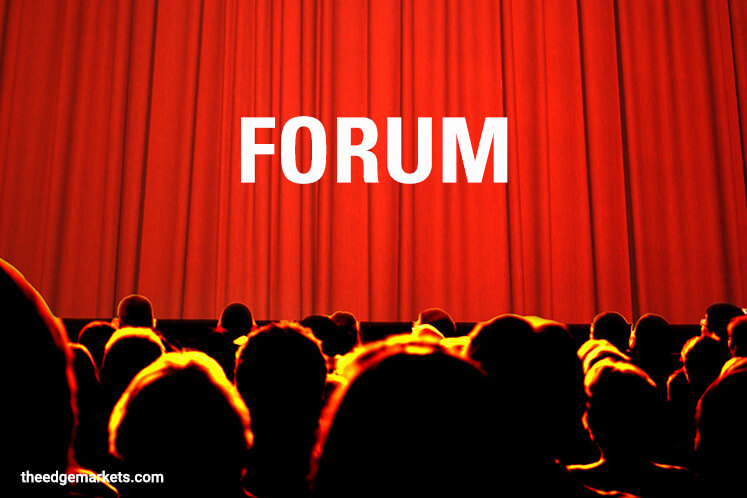 Among the recent news and happenings last week, it was the death of famed Sinophile Sir David Tang at the relatively young age of 63 that moved my needle the most.
His was a rarefied world: society parties with the likes of Russell Crowe, Kate Moss and the late Princess Diana; cigar clubs and luxury silks via his shops Shanghai Tang and China Club; homes in London, New York and Hong Kong; and wealth and art on a monumental scale.
Absolutely not related to my life, or that of most Malaysians. So why the fascination with this deceased raconteur and socialite?
Perhaps because some of us, as we celebrate The Edge's 23rd anniversary, are attaining a vintage where we are witnessing the deaths of loved ones, friends, colleagues and even (or especially?) the people we follow in the glossy pages of faraway publications.
Tang's death — as indeed that of couturier Sonny San, writer Rehman Rashid and my own sister, writer and food critic Fay Khoo — in the last 12 months, remind us of mortality and disease, neither of which gives two hoots about how rich and connected one is, or even apparently, how healthy you are.
Like many famous people, it was Tang's elevated lifestyle and wit that piqued one's interest.
In particular, it was his Agony Uncle column in Financial Times' Weekend Edition that made him so unique: a Chinaman with a more than firm grasp of society's mores and idiosyncrasies. Which more than made him the oriental equivalent of Tom Wolfe.
Go grab a copy of Rules for Modern Life: A Connoisseur's Survival Guide from Borders. It is a small but hilarious compendium of his dispensed advice in Financial Times. It is great fun. More importantly, though, Tang's humour serves as a nice counterpoint in the strange and disquieting times we now live on in.
Governance and diversity — or broke
What else happened? Well, somewhat unheralded (or maybe because it just ranked poorly on the "newsworthy" scale), Bursa Malaysia's proposed alignment of its listing requirements with the new Malaysian Code on Corporate Governance (MCCG) emerged further below the radar than the bourse would have liked.
Beyond the usual technical bluster, Bursa's objective is quite simple: it wants to improve the quality of corporate governance (CG) disclosures, promote transparency (via a separate CG report) and enhance the application of MCCG principles.
Upon which, this refrain: "More work! More compliance!"
And yes. It IS more work.
Even before this latest proposal, companies were already grappling with the Integrated Reporting Framework, sustainability reporting and detailed management discussion and analysis.
And now this.
Objections will be justifiable. Especially with the lack of a clear causal link between more reporting and fatter bottom lines.
To which I would add this latest spanner from John Vail, Nikko Asset Management's chief global strategist. He suggested that improving second-quarter aggregate Japanese corporate profits can be directly linked to long-term structural corporate-governance enhancements in the country — his 12-year theme has been proven correct.
Which means, in short, that companies should not fret: all this effort will pay off — in about 10 years' time.
Females ... why not more?
Since one is on the subject of corporate governance, why not this: Prime Minister Datuk Seri Najib Razak's threat to "name and shame" the 17 — among the Top 100 — government-linked companies that have failed to nominate female directors to their boards.
He was apparently so serious about meeting this target that he even mentioned the possibility of withholding government contracts from the said offenders until compliance is attained.
Governments appear to be so serious about gender diversity on corporate boards that in countries such as Germany, France, Belgium, Iceland and Italy, there are now mandatory ratios to meet these goals.
So I did some research.
Gender diversity in corporate boards MUST, ergo, equate to some magic potion that SURELY drives corporate profits and shareholders' value, right?
Otherwise, why bother? But nope.
In fact, certain studies have even suggested that no such causal link exists between diversity and performance. And of those that did indeed suggest such a causal link, little hard scientific evidence was mounted to explain the improvement.
I would like to make two observations. One, could it be at all possible that the demonstration of one's acceptance of gender equality is founded NOT upon the possible financial improvements (real or imagined) to a corporation but instead on the political mileage it might generate among what is essentially at least half a country's population?
And two, if one REALLY were to be so accepting of diversity as a concept, surely then one must not stop at gender.
Why not extend the notion to race, age, religion, class, nationality and sexual orientation — the types and classes of people many Malaysians view as not only different but inferior as well.
And which should therefore be addressed by this CG movement, no?
In for a penny, in for a pound, as they say.
I have yet to see, for instance, a 28-year-old transsexual Indian being CEO of a listed company in Malaysia, and it is an omission that could be addressed.
In the wake of the prime minister's strong words and stirring speech, that day might yet come — and what an enlightened day that will be.
---
Khoo Hsu Chuang is contributing editor at The Edge Malaysia