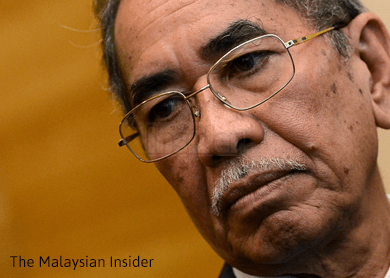 (May 28): Police today clarified that only two cops were suspected of having links to human trafficking activities in Wang Kelian, Perlis where migrant camps and graves had been found.
Deputy Inspector-General of Police Datuk Seri Noor Rashid Ibrahim said the duo was arrested last month in Penang for transporting illegal migrants.
"There were two other cops arrested for investigations too but for goods smuggling.
"Only the two policemen arrested Penang are being probed if they are connected to the case in Wang Kelian," he told reporters at the police tactical base near the Malaysian-Thai border in Perlis today.
Deputy Home Minister Datuk Seri Dr Wan Junaidi Tuanku Jaafar yesterday said that 12 policemen had been arrested for being suspected of having links to human trafficking activities in Perlis.
This came after the police found 139 suspected graves near 28 human trafficking camps in the jungle of Wang Kelian near the Malaysian-Thai border when they began combing the area from Tangga Seratus to Kampaung Wai from May 11 to May 23.
Wan Junaidi, who visited the tactical base this morning, clarified that only two cops were under suspicion. The remaining eight were not cops and were being investigated for smuggling goods.
The arrests, apart from the duo suspected of being involved in people smuggling, were all made since Ops Pintas began in January last year.
Both men would not reveal further details on the alleged role the duo had played or the progress of the ongoing investigations.
Rashid also denied that the police caught the masterminds behind the activities.
He said the police have arrested a number of Rohingya who had stayed in the country illegally for some time and had "invited" their friends back home in Myanmar to come to Malaysia.
"There are syndicates bringing the people here. We have only arrested those involved in receiving the people," he said.
Wan Junaidi said the Malaysian authorities would continue to investigate from all aspects, including the involvement of locals.
He dismissed reports that forestry, immigration and police personnel in the area would be reassigned following the discovery of the graves and camp.
"There is no such instruction," he said.
An online news portal had quoted sources that there would be a major overhaul within the forestry department, immigration department and police.
The portal reported that forestry personnel had been called to have their statements recorded while there were many levels of corruption going on at the border, from enforcement officers to village heads.
Wan Junaidi added that Putrajaya was thinking of changing its border protection policy, following the discovery of the camps and graves so close to the Malaysian-Thai border.
He said the relevant authorities such as the Home Ministry, National Security Council and others were looking into it.
There was recommendation to install adequate physical barriers along the border, he said.
"If we can get the funds, we may build walls. That is being studied," he added. – The Malaysian Insider