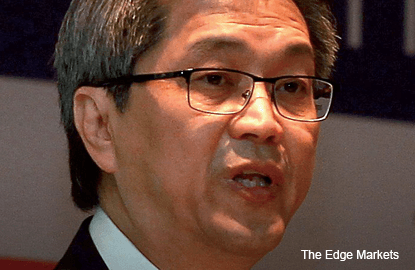 KUALA LUMPUR: When it was first launched in 2012, the private retirement scheme (PRS), administered by the Private Pension Administrator Malaysia (PPA), was expected to hit RM30.9 billion in assets under management (AUM) in 10 years — that's an average of RM3.9 billion per year.
But more than two years since, its AUM, even with eight fund providers and 47 PRS funds, stood at some RM900 million and has yet to reach the RM1 billion mark as uptakes from corporations remain low as there is no sense of urgency for them to adopt the scheme.
It is learnt that many are hesitant to commit to the PRS as this would give their human resources department more work, and there is no established system for companies to process the PRS, which is perhaps why companies have yet to appreciate the PRS as an employee-retention tool.
The bulk of contributors now are individuals looking to take advantage of tax relief offered by the government, as one is eligible for tax relief of up to RM3,000 per annum for contributions made to the PRS in the first 10 years.
Hence, the Securities Commission Malaysia (SC) is stepping up efforts by establishing an online platform to boost the PRS industry and encourage uptakes.
In an interview with the digitaledge Daily, SC executive director Goh Ching Yin said SC is working with the PPA to roll out the online platform next year to facilitate enrolment and top-ups of contributions by employees or the self-employed.
"The new platform will offer a common utility for the benefit of all PRS providers by enhancing connectivity and enabling the processing of applications and contributions electronically," he said.
Besides enhancing efficiency through technology, he said this would also widen investors' access by permitting enrolment to be done at their convenience and for investments to be performed online.
This will therefore create a more conducive environment for both individuals and employers to participate in the PRS, he said.
The PRS is a voluntary long-term investment scheme designed to help individuals, whether employed or self-employed, accumulate savings for retirement. Each PRS offers a choice of retirement funds from which individuals may choose to invest in, based on their own retirement needs, goals and risk appetite.
It is basically designed to provide additional retirement planning options for the general public.
Corporations in Malaysia can opt to contribute to the PRS for their employees, on top of the statutory Employees Provident Fund (EPF) contributions, which Goh sees as an effective employee benefit tool that employers can use to attract a strong, quality workforce.
"Deductions for PRS contributions made by an employer are tax-exempt. By way of tax incentives, in addition to [the] EPF, deductions for PRS contributions made by an employer are tax-exempt up to a maximum 19% of an employee's total remuneration," he added.
Goh also pointed out that contributions can be one-off, periodic or depending on the corporation's profitability.
"Corporates can also select and offer [the] PRS to certain members from their organisations," he said.
Although the PRS has yet to reach the RM1 billion mark, Goh said it is encouraging to note that the scheme has seen a "doubling-up" effect in membership, with approximately 150,000 members now, compared with 64,710 members in 2013.
Goh said other strategies to promote the PRS include expanding the distribution channel to insurance and takaful brokers.
"Their main clientele consists of corporates, which are a highly valued segment for [the] PRS. This strategic move has been welcomed by all relevant stakeholders in the financial landscape," he said.
This article first appeared in digitaledge Daily, on August 24, 2015.