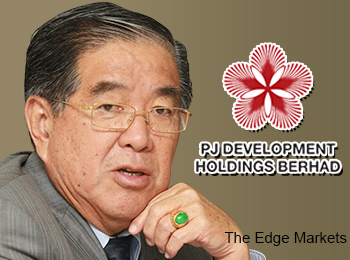 KUALA LUMPUR (Nov 27): Minority shareholders in PJ Development Holdings Bhd walked out of an annual general meeting (AGM) today in protest of an attempt to re-vote by poll the reappointment of Tan Sri Ong Leong Huat as its chairman after he failed to garner the 75% majority threshold by show of hands earlier.
According to an official of PJ Development, 33 shareholders voted in favour of the reappointment of Ong as the property developer's chairman, while 23 shareholders voted against the resolution by show of hands at the AGM this morning. This fell short of the 75% majority threshold to reappoint Ong as chairman.
Later at the meeting, the shareholders were told that this was a procedural mistake and the vote should have conducted by poll instead. The group's independent director Foo San Kan, who chaired the meeting, requested for a re-vote by polling.
Shareholders were unhappy with the request and walked out of the AGM.
Moments later, however, they returned to the hall for the poll again.
Ong owns a 21.78% indirect interest PJ Development.
Ong's flagship OSK Holdings Bhd recently entered into a conditional share sale agreement to purchase a 31.7% stake in PJ Development at RM1.60 per share.
PJ Development's share price closed down two sen or 1.23% at RM1.60 in morning trade, with barely 98,000 shares changing hands.