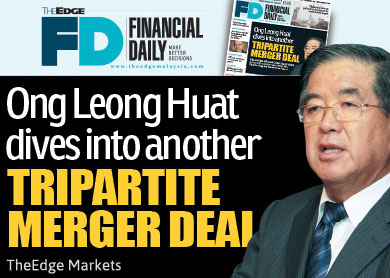 KUALA LUMPUR: Veteran stockbroker Tan Sri Ong Leong Huat, who is in the midst of a mega bank merger among CIMB Group Holdings Bhd, RHB Capital Bhd (RHBCap) and Malaysia Building Society Bhd, has jumped into another three-way merger deal, this time involving OSK Holdings Bhd, OSK Property Holdings Bhd and PJ Development Holdings Bhd (PJD).
Ong, via his flagship company OSK Holdings Bhd, owns 9.91% of RHBCap.
As stated in a filing with Bursa Malaysia yesterday, Ong and his family, via OSK Holdings, is proposing to acquire a 73.6% stake in OSK Property Holdings Bhd and a 31.7% stake in PJD for a combined RM584.66 million, which will create a first-tier property group with a market capitalisation of RM3.28 billion — slightly less than Mah Sing Group Bhd's RM3.47 billion.
This confirmed an earlier report by TheEdge Markets.com, citing sources, that the OSK Holdings board met yesterday to discuss the potential acquisition of OSK Property and PJD.
Last week, Ong was reported as saying that he was ready to merge OSK Property and PJD in a move to create a first-tier property group.
Under the latest merger proposal, OSK Holdings is offering to acquire 177.6 million shares or a 73.6% stake in OSK Property for RM355.29 million or RM2 per share, and 143.4 million shares or a 31.7% stake in PJD for RM229.37 million or RM1.60 per share.
OSK Holdings said it signed a conditional share sale agreement (SSA) with Ong and parties acting in concert (PAC) yesterday to acquire the shares in both OSK Property and PJD.
The group plans to settle its acquisition of OSK Property by issuing 177.643 million new OSK Holdings shares at an issue price of RM2 apiece, while the acquisition of PJD will be satisfied by issuing 114.685 million new OSK Holdings shares at RM2 each.
The business direction of OSK Holdings will see a significant change as both acquisitions are deemed as related party transactions. The group will make a mandatory takeover offer to buy the remaining 26.4% stake in OSK Property, as well as a voluntary takeover offer to buy a 68.3% stake in PJD.
For the takeover of the rest of the shares in OSK Property, this will be satisfied either via cash or share swap, based on an exchange ratio of one OSK Holdings share for every OSK Property offer share. The group also made an offer of RM1 apiece to acquire 105.471 million OSK Property warrants by cash.
As for the takeover offer for the rest of PJD shares, it will also be satisfied either via cash or share exchange, based on an exchange ratio of four OSK Holdings shares for every five PJD offer shares. It offered to buy 213.458 million PJD warrants at 60 sen apiece by cash.
In the filing, OSK Holdings said the acquisitions would enable it to consolidate the three businesses as one single entity, which can be managed more efficiently, to achieve cost synergy and to avoid any potential conflict of interest in the future.
Following the exercise, OSK Holdings said it will diversify into property development and construction, manufacturing and trading of cables and building materials, as well as hotel and leisure.
To recap, OSK Holdings in November 2012 completed the disposal of its investment bank and related businesses to RHBCap for RM2.09 billion via a combination of cash and RHBCap shares.
OSK Holdings is widely expected to cash out from RHBCap should the mega bank merger materialise, with Ong gradually exiting the local banking industry and shifting his focus to building his property empire.
As at June 30, 2014, OSK Holdings' total net assets stood at RM2.614 billion with borrowings at RM312.75 million.
As at Sept 19, Ong and the PAC collectively held a 41.2% stake in OSK Holdings, but they are seeking an exemption to undertake the mandatory takeover offer for OSK Holdings.
Upon the completion of the acquisitions of OSK Property and PJD, Ong and the PAC will remain as controlling shareholders of OSK Holdings with a 44.8% to 55% stake.
OSK Holdings has proposed to pay a special cash dividend of 15 sen apiece.
It has also proposed a bonus issue of up to 237.74 million warrants to existing shareholders on the basis of one free warrant for every four existing shares held.
All the proposals are expected to be completed by the third quarter of 2015.
PJD closed 11 sen or 6.2% lower at RM1.67 yesterday, giving it a market capitalisation of RM754.4 million. OSK Property was unchanged at RM2.27, while OSK Holdings ended the day six sen or 2.8% lower to RM2.08, with market caps of RM547.8 million and RM1.98 billion respectively.
This article first appeared in The Edge Financial Daily, on October 16, 2014.