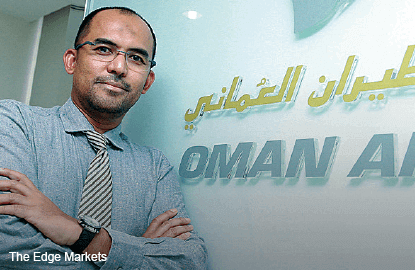 OMAN Air, which started flying to Malaysia five years ago, has revised the strategy and schedule for its Muscat-Singapore-Kuala Lumpur route to enhance connectivity and better compete with other Middle-Eastern carriers.
The airline is targeting more corporate travellers, particularly those who want to connect to major European cities. By tweaking the route, it will also provide Omanis with direct connection to Malaysia.
Recently, Oman Air changed its route to Muscat — the capital of Oman — from KL to a non-stop flight. Previously, the journey to and from Muscat included a stop in Singapore. Now, passengers start their trip in Singapore, stop over in KL and then proceed to Muscat.
Oman Air country manager for Malaysia, Zainuddin Mohamed, expects these changes to immediately translate into better load factor in the second half of 2015. Oman Air uses the Airbus 330-200, which provides 216 seats on each flight.
In the first quarter of 2015, the airline managed to fill only half its capacity while a slight improvement was recorded in the second quarter, at 60%. Zainuddin attributed the low load factor to a combination of softer demand for travel, a weaker ringgit against the US dollar and lack of brand awareness.
"The Muscat-Singapore-Kuala Lumpur route was introduced on March 29 this year. However, the stopover in Singapore impacted the load from Kuala Lumpur," Zainuddin tells digitalEdge Weekly.
"We used to get passengers from Medan, Indonesia, travelling to Jeddah via Kuala Lumpur to perform their umrah. But due to the additional stop, we lost market share in this segment."
Previously, the route was Muscat-KL-Muscat.
He says another factor was a drop in local demand for umrah. "This usually peaks from May to June but this year, it declined mainly due to fear of not being able to get a visa to Saudi Arabia."
Last year, the Saudi Embassy decided to restrict the number of visas issued to pilgrims.
First-quarter tourist data also showed fewer Omanis making their way here — only 26,601 compared with 34,534 in 1Q2014.
On a positive note, Zainuddin says, "The load factor improved to 60% in the first half and we expect to achieve 75% for the whole of 2015. We are upbeat on the second half."
It is worth noting that Oman Air's load factor last year was 75%, although that was lower than the 80% it had recorded in 2013. The contraction in 2014 was due mainly to the timing of the flight departures, which resulted in poor connectivity to key points in Europe and the Middle East from Oman. Based on Tourism Malaysia data, Omani arrivals in Malaysia were also down last year.
"In the past four years, our main market was the umrah crowd. This year, we plan to focus on the corporate market as well," says Zainuddin.
So, while previously the time of the daily flights was not fixed, since June 21, they have been leaving KL for Muscat at 9.45am.
"The passengers will land at 12.30pm and be on time to catch connecting flights to European destinations," says Zainuddin.
Oman Air flies to London, Paris, Frankfurt, Munich, Zurich and Milan.
Overall, Zainuddin expects the load factor to increase once Oman Air takes delivery of new aircraft late next year and improves connectivity to European countries.
In Malaysia, Abda Aviation is the general sales agent (GSA) for Oman Air. GSAs are usually appointed by airlines as their country's representative to reduce investment or start-up costs.
On whether the Malaysian route is profitable for the group, Zainuddin says it is not. Oman Air is also loss-making group-wide, although it expects to make a profit in 2017 after taking delivery of its new fleet.
Established in 1993, the airline has just 39 planes now that fly to 46 destinations — many of them in India and the Gulf states — in 27 countries. By 2020, it plans to have 70 planes and fly to 75 destinations.
Zainuddin also reveals that Oman Air is keen to expand to the Far East. Last year, it commenced direct flights from Muscat to Jakarta, Indonesia, and Manila, the Philippines. It also has two daily flights to Bangkok, Thailand, from Muscat, which is one of its profitable routes. It has been reported that Oman Air is looking at adding China to its destinations this year and South Korea next year.
Meantime, Zainuddin acknowledges that the current air travel market is challenging and that Oman Air will need more time to establish itself. Airlines like Emirates have three daily flights from Malaysia to Dubai, the UAE, while Etihad has two daily flights from KL to Abu Dhabi. Another popular Middle-Eastern airline flying to Malaysia is Qatar Airways.
Given the new schedule and direct flight from KL, Oman Air, in an effort to woo passengers, has launched promotional all-inclusive fares for its business class to Europe, from as low as RM7,900, and to London at RM8,200. It has also introduced economy-class all-inclusive fares to Europe at RM1,890.
This year, the airline will be participating in the MATTA fair, which will be held in September.
This article first appeared in digitaledge Weekly, on August 3 - 9, 2015.