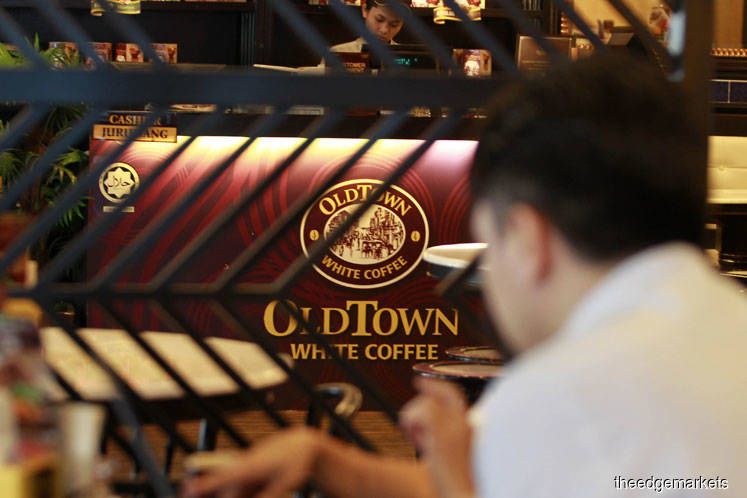 KUALA LUMPUR (Dec 11): Oldtown Bhd has received a pre-conditional general offer for its shares at RM3.18 apiece from global coffee maker Jacobs Douwe Egberts BV (JDE).
Oldtown said its shareholders, holding a total stake of 51.45% stake in the group, have provided irrevocably, undertakings to accept the cash offer, made through the Netherlands-based firm's indirect wholly-owned unit Jacobs Douwe Egberts Holdings Asia NL BV (JDE Asia).
The shareholders are Old Town International Sdn Bhd (42.58%), Oldtown's managing director Lee Siew Heng (1.34%) and Mawer Investment Management Ltd (7.52%).
In a filing with Bursa Malaysia, Oldtown said the offer price is equivalent to 10.42% premium to its last closing price of RM2.88 last Thursday (Dec 7), and valued the restaurant chain operator at RM1.47 billion.
At RM2.88, Oldtown has a market capitalisation of RM1.33 billion.
Currently, JDE Asia does not own any shares in Oldtown, and the offer will only be made if and when all pre-conditions are satisfied on or before Aug 11, 2018, Oldtown said, adding the fulfilment does not amount to a firm intention for JDE Asia to make the offer.
The pre-conditions include JDE Asia's filing being approved by the Competition Commission of Singapore to make the offer.
Should the offer materialise, Oldtown said JDE Asia does not intend to maintain the group's listing status for greater control and management flexibility in the implementation of any strategic initiative and operational change.
Oldtown said the offer represents an opportunity for shareholders to realise their investment in the group at a premium.
"The cash consideration under the offer presents shareholders with a clean cash exit opportunity to realise their entire investment in Oldtown shares at a premium over the prevailing trading prices of the Oldtown shares, without incurring brokerage and other trading costs," the filing said.
In a separate statement, Lee said he looks forward to working with with JDE, to further grow Oldtown.
"We are deeply honoured that JDE recognises the powerful brand and platform that we have tirelessly built over the past 18 years. We strongly believe JDE is the ideal partner, as we continue to serve best-in-class products to our customers. We look forward to drawing on JDE's deep global expertise and building a highly successful partnership with them," Lee added.
JDE chief financial officer Fabien Simon said the company saw huge potential in Oldtown.
"The Oldtown team is focused on delivering premium, high-quality products to consumers and we see huge potential in the business. We are excited to work with the Oldtown team to rapidly grow the business, as part of the broader JDE platform," Simon said.
CIMB Investment Bank Bhd is the principal adviser for the general offer on behalf of JDE Asia, while Evercore Inc is the international financial adviser to Oldtown.
Evercore's Asia and global partner chairman Keith Magnus said given the opportunities and challenges that Oldtown faces, the proposed offer is a unique opportunity for  Oldtown shareholders to realise their investment for cash, at a significant premium to the market-traded price.
"It is also noteworthy that the founding shareholders have agreed to the proposed offer by JDE, which unlocks substantial value for shareholders of the company," Magnus said.
The last time Oldtown traded above RM3.18 was on May 23, when the counter went up to RM3.24, a day after the stock ascended to an all-time high of RM3.35.
Year-to-date, Oldtown share price has gained 57.38%, from RM1.83 on Dec 30 last year.