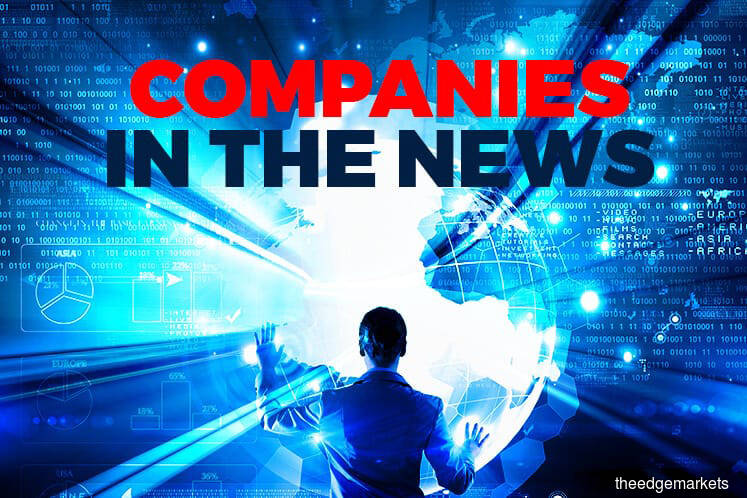 KUALA LUMPUR (Dec 11): Based on corporate announcements and news flow today, stocks in focus tomorrow (Tuesday, Dec 12) may include: OldTown Bhd, Pos Malaysia Bhd, KPJ Healthcare Bhd, Al-`Aqar Healthcare Real Estate Investment Trust, LB Aluminium Bhd, Ivory Properties Group Bhd, SWS Capital Bhd, GETS Global Bhd and MUI Properties Bhd.
Old Town Bhd has received a pre-conditional general offer for its shares at RM3.18 apiece from global coffee maker Jacobs Douwe Egberts BV (JDE).
Oldtown said its shareholders, holding a total stake of 51.45% in the group, have provided irrevocably, undertakings to accept the cash offer, made through the Netherlands-based firm's indirect wholly-owned unit Jacobs Douwe Egberts Holdings Asia NL BV (JDE Asia).
The shareholders are Old Town International Sdn Bhd (42.58%), Oldtown's managing director Lee Siew Heng (1.34%) and Mawer Investment Management Ltd (7.52%).
Oldtown said the offer price is equivalent to a 10.42% premium to its last closing price of RM2.88 on Thursday (Dec 7), and valued the restaurant chain operator at RM1.47 billion.
Currently, JDE Asia does not own any shares in Oldtown, and the offer will only be made if and when all pre-conditions are satisfied on or before Aug 11, 2018. The fulfilment does not amount to a firm intention for JDE Asia to make the offer.
The pre-conditions include JDE Asia's filing being approved by the Competition Commission of Singapore to make the offer.
Should the offer materialise, Oldtown said JDE Asia does not intend to maintain the group's listing status for greater control and management flexibility in the implementation of any strategic initiative and operational change.
Oldtown said the offer presents shareholders with a clean cash exit opportunity to realise their entire investment in its shares at a premium over the prevailing trading prices, without incurring brokerage and other trading costs.
Pos Malaysia Bhd group chief executive officer Datuk Mohd Shukrie Mohd Salleh is stepping down on Dec 31 after five years with the company, citing his desire to make a career change.
He will be replaced by Datuk Azlan Shahrim, who will report to the board of directors until a suitable candidate is appointed.
On July 1, 2011, Shukrie joined Pos Malaysia as group COO and was thereafter redesignated as group CEO on Feb 1, 2013. Prior to his appointment as Pos Malaysia's group CEO, he was the CEO of Pos Logistics Bhd.
KPJ Healthcare Bhd's 60%-owned subsidiary Selangor Specialist Hospital Sdn Bhd (SgSH) is disposing of a five-storey car park block located within the KPJ Selangor Specialist Hospital in Shah Alam, Selangor to Al-`Aqar Healthcare Real Estate Investment Trust (REIT) for RM13 million.
KPJ said SgSH had on Friday entered into a sale and purchase agreement (SPA) with AmanahRaya Trustees Bhd, being the trustee of Al-'Aqar, for the proposed disposal of the car park block, which it plans to inject into the REIT at a future date to be agreed by both parties.
KPJ is a major unitholder of Al-'Aqar, with indirect interest of 39.25% of Al-'Aqar units.
The proposed acquisition is expected to be completed by end of the year.
LB Aluminium Bhd's net proft for 2QFY18 fell 71% year-on-year to RM1.67 million, from RM5.78 million, on reduced margins because of higher raw material input costs.
This was further compounded by the group's lower other operating income, which declined to RM1.69 million, from RM2.54 million y-o-y, as a result of lower foreign exchange gain and lower amount of reversal of impairment loss on receivables during the quarter.
Quarterly revenue, however, grew 7% y-o-y to RM126.94 million, from RM118.28 million, because of higher average selling prices, due to a significant rise in raw material costs, particularly aluminium.
For 6MFY18, net profit fell 52% to RM5.27 million, from RM10.89 million a year ago — again mainly because of reduced margins due to higher raw material costs. Revenue rose 10% to RM251.36 million, from RM227.97 million, as it recorded higher average selling prices, while export business grew.
The group plans to strategise to mitigate the potential adversity by focusing on the export market, and possibly product diversification.
Ivory Properties Group Bhd is once again seeking more time to fulfill the conditions precedent for the proposed sale of a piece of freehold land in Jesselton, Penang, for RM150 million — the third extension it has announced in relation to the disposal.
The extension this time is for 12 months until Dec 16, 2018.
The land, bought by Ivory for RM53 million in 2007, measures some 21.78 hectares, was approved by shareholders for disposal on Nov 25, 2015.
Ivory was expected to gain approximately RM38 million from the disposal to Jesselton Peak Sdn Bhd — initially targeted for completion in December 2016.
Furniture manufacturer SWS Capital Bhd has proposed a bonus issue of two new shares, together with five warrants, for every eight shares held.
SWS Capital said the exercise involves the issuance of 36.47 million new shares and 91.17 million free detachable warrants.
The warrants will have a five-year tenure, with an exercise price of 90 sen. Proceeds raised will be used for working capital.
The price was fixed based on SWS Capital's five-day volume weighted average market price up to Dec 5.
The company expects the proposal, which requires shareholders' approval, to be completed within two months.
GETS Global Bhd (formerly known as KBES Bhd) plans to acquire the entire 79.99% stake held by Putrajaya Leisures & Services Group Sdn Bhd (PULSE Group) in loss-making Pengangkutan Awam Putrajaya Travel & Tours Sdn Bhd (PAPTT) for RM1.
PAPTT is a public transport service provider in Putrajaya, which is supported by over 170 buses. It also manages the Putrajaya Sentral Terminal, Putrajaya Park and Ride and car parks in various locations in Putrajaya.
GETS Global's wholly-owned Konsortium Bas Ekspres Semenanjung (M) Sdn Bhd (KBESM) has entered into a share sale agreement with PULSE Group to acquire 239,999 shares in PAPTT. Perbadanan Putrajaya owns the remaining 20.01% of PAPTT's shares.
Under the deal, KBESM will assume liabilities amounting to RM4.97 million, pursuant to the proposed acquisition.
Tycoon Tan Sri Khoo Kay Peng will relinquish the role of chief executive officer (CEO) at MUI Properties Bhd to his son Andrew Khoo Boo Yeow, assuming the post on Jan 1, as part of a succession plan.
Kay Peng, 78, will remain as the company's executive chairman, which he has held since 1979. As at today, Kay Peng is a substantial shareholder of MUI Properties, with a 74.32% stake.
Andrew, 45, has also been appointed as the company's executive director (ED). The appointment is part of changes made to the leadership at Malayan United Industries Bhd (MUI) as well. On Friday (Dec 8), MUI announced Andrew's apppointment as the group's CEO and ED effective Jan 1.