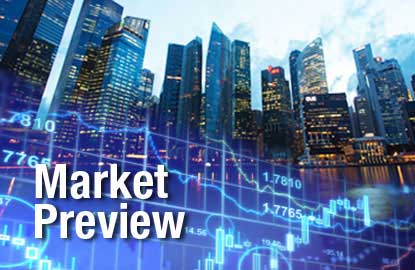 SINGAPORE (Feb 29): The following stocks may be in focus today:
Olam International posted a 20.1% rise in its operational PATMI (excluding exceptional items) to $346.2 million for FY2015. For the 12 months to December, it made a PATMI loss of $64.3 million due to a net exceptional loss of $397 million against a net exceptional gain of $302.9 million in 12M 2014. Revenue for the period decreased 3.6% to $19.052 billion. The results include an impact of $192.6 million due to a change in the basis of presentation of the equity investment in PureCircle from other comprehensive income to the profit and loss statement.
UOL Group's earnings tumbled 43% to $391.4 million in the financial year ended Dec 31, 2015, from $685.9 million a year ago. The weaker bottom line was due mainly to lower fair-value gains from the group's investment properties and the absence of a large one-time profit made from the sale of Jalan Conlay land in Malaysia in 2014. Revenue fell 6% to $1.28 billion from $1.36 billion previously.
Logistics company Cogent's 4Q earnings fell 33% to $7.3 million from the year before. Revenue increased 9% to $33.3 million, buoyed by its warehousing logistics management services at its new logistics hub, Cogent1.Logistics Hub. Container depot services and automotive logistics management services continued to see demand for the period.
Hotel Properties reported FY2015 earnings of $81.7 million, down 34.3% from $124.4 million the year before. Revenue fell 5.7% to $579.5 million, hit by lower contributions from its properties division without sales from Tomlinson Heights condominium, which was completed in March 2014. The group also sold fewer units in The Met, Bangkok.
Vard Holdings posted losses of NOK603 million in FY15 compared to profit of NOK 349 million in FY14. Group revenue came in at NOK 11.14 billion, down 14% y-o-y, with the decrease due mainly to reduced activity at some of the group's European shipyards, as a result of the shortfall in new orders.
Starburst Holdings sank into the red with a full-year net loss of $1.7 million, compared with earnings of $13.2 million the year before. Revenue for the designer of firearms training facilities fell 59.5% to $15.9 million, mainly due to the completion of firearm shooting range and tactical training mock-up projects in Southeast Asia, and another firearm shooting range project in the Middle East.
Production company Spackman Entertainment Group's full-year net loss narrowed to US$1.1 million ($1.5 million) from US$8 million a year earlier. Revenue dropped 16% to US$13.6 million. The production house released one film, The Priest, in FY2015, compared with four films in FY2014.
Far East Orchard's earnings fell 17.9% to $29.1 million in the financial year ended Dec 31, 2015, from $35.5 million a year ago. The earnings decline stemmed from an over-provision of prior years' income tax of $3.9 million and goodwill impairment of $4.9 million, but this was partially offset by the share of stronger performance from the joint ventures. Revenue decreased 14.2% to $270.9 million from $315.5 million previously.
Sarine Technologies' earnings for 4Q ended Dec 31, 2015 fell 62.1% to US$1.47 million ($2.1 billion). Revenue slipped 32.3% to US$12.39 million.
Coal miner Resources Prima reported earnings of US$616,000 ($866,509) for the nine-month period to December, compared with net losses of $68.9 million in the year-earlier period.  Revenue fell 25.6% to US$51 million, as coal sales declined 26% to US$49.5 million with the fall in market prices and sales volume, in line with the depressed coal market. At the same time, its income from leasing its coal mining facilities to third-party mine owners fell 9.6% to US$1.5 million with the fall in throughput of coal.
Precision plastic components maker Sunningdale Tech reported a 52.1% increase in FY2015 earnings to $42.1 million. This was on the back of a 41.8% jump in revenue to $674.5 million, driven by increases in orders across all business segments and the full contribution from First Engineering Limited (FEL) Group.