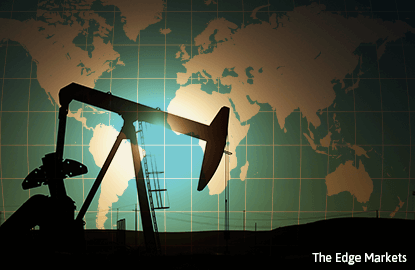 SINGAPORE (Feb 14): Oil prices were stable on Tuesday, supported by an OPEC-led effort to cut output while rising production elsewhere kept crude futures within the narrow range that has contained them so far this year.
Brent crude futures were trading at US$55.63 per barrel at 0638 GMT, up 4 US cents from their last close.
US West Texas Intermediate (WTI) crude was up 4 US cents at US$52.97 per barrel.
This followed a 2% decline in the previous session. Both oil benchmarks have remained within a US$5 per barrel trading range since the beginning of the year.
"The usually fairly volatile oil price has barely budged for two months, the reason being conflicting dynamics in the market," said Dutch bank ABN Amro.
The Organization of the Petroleum Exporting Countries (OPEC) and other producers, including Russia, have agreed to cut output by almost 1.8 million barrels per day (bpd) during the first half of 2017 in a bid to rein in a global fuel supply overhang.
But undermining these efforts has been rising production in the United States, where increased drilling activity especially by shale oil producers has lifted overall output to 8.98 million bpd, up 6.5% since mid-2016 and to its highest level since April last year.
"Oil just appears to be caught in a range at the moment and mainly focused on those supply considerations," said Ric Spooner, chief market analyst, CMC Markets in Sydney.
Despite an OPEC compliance rate of around 90% with the announced cuts, scepticism remains over the end result, preventing the cut from having a bigger impact on prices, traders said.
"OPEC producers want the market to believe they will stick to the agreed production freeze (cut). But lessons from the past have made the market deeply suspicious," ABN said.
Traders said that even at an OPEC compliance of 90%, and a much lower rate for non-OPEC members, producers would have to accelerate their cuts in the coming months in order to achieve the average daily reduction target agreed for the first half of the year.
ABN said it had reduced its average Brent oil price forecast for the first half of 2017 "from US$55 per barrel to US$50 per barrel, while allowing for a possible temporary dip towards US$45 per barrel".
With oil fundamentals like OPEC cuts and US drilling dominating the markets, financial price drivers such as Brent's relation with the US dollar have been upended, at least for now.
Oil and the US dollar typically move inversely as a strong US dollar weighs on oil prices as it makes fuel purchases by countries using other currencies more expensive, potentially crimping demand.
"The OPEC production cuts and the US rig count are beginning to outweigh the valuation impact of currencies (on oil)," said Spooner.