This article first appeared in The Edge Financial Daily, on March 10, 2020.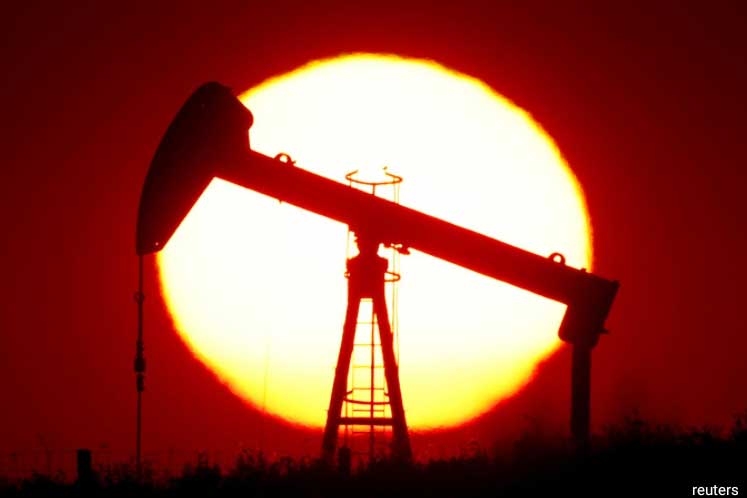 KUALA LUMPUR: The government's revenue is expected to shrink should oil prices stay low at US$30-level (RM126.30) for more than three months.
The prices dived to around US$30 per barrel yesterday as Saudi Arabia shocked the world by launching a price war against Russia soon after the collapse of the Opec+ talks over the weekend.
Malaysian Institute of Economic Research (MIER) deputy director Professor Jamal Othman commented that the government's dependency on oil revenue has increased markedly ever since the goods and services tax (GST) was removed in 2018. Any prolonged price fall would mean less income from Petronas and tax payments from oil-based companies.
Eventually, Jamal Othman said, this would affect the government's ability to fulfil the 2020 Budget commitments.
To recap, the nation's 2020 Budget tabled by former finance minister Lim Guan Eng was based on an oil price assumption of US$62 a barrel. The current oil price is almost halved of the estimate.
Yesterday, Brent crude oil price fell to its lowest since 2016 at US$31 per barrel after Saudi Arabia decided to oust competitors by raising production by an additional two million barrels per day (bpd) and giving discounts to major clients as retaliation after Opec+ talks last week failed to reach a consensus to lift prices. This follows Russia's statement that oil price at US$45 per barrel is still sufficient for the country to maintain its economy.
Likewise, AmBank Group chief economist and head of research Dr Anthony Dass concurred that drop in oil prices would strain the government's fiscal position.
Based on the oil price assumption of US$62 per barrel, Petronas revenue should contribute around 20.7% of total government revenue in 2020. For every US$1 per barrel drop in oil price, it should reduce the country's oil revenue by RM300 million, according to Anthony.
"With oil prices having plunged to US$35 per barrel, it will strain the fiscal position. The drop in oil price to US$35 per barrel will reduce oil revenue by RM8.1 billion to RM42.5 billion from the initial projection of RM50.6 billion for 2020.
"Meanwhile, the risk for oil prices to go below US$30 per barrel is high," Anthony added.
On a brighter note, Anthony said the drop in oil price will help ease fuel subsidy which is estimated at around RM6 billion.
Nevertheless, he expects the fiscal deficit to rise between 3.6% and 3.8% of gross domestic product (GDP) from the current projection of 3.4% given the net impact from lower oil revenues and less expenditures on fuel subsidy.
If the lower oil prices were to be prolonged, economists see the need to reassess the government's budget.
"This kind of a knee-jerk reaction does not normally last for long although we may have to start looking for a new base projection for crude oil price this year," said Malaysian Rating Corp Bhd chief economist Nor Zahidi Alias.
Statistically speaking, Nor Zahidi said Brent crude oil price is currently trading at minus two standard deviation (SD) below its long-term historical mean. Based on experience, at current level, the recovery — once it happens — also tends to be swift especially when market sentiment recovers.
"On a year-to-date basis, Brent is currently averaging around US$58 per barrel, lower than the government's base projection of US$62 per barrel for 2020 in the Budget report.
If oil prices do not recover sufficiently in the months to come, government revenue projection for 2020 may have to be reassessed, and so does the budget deficit target. This is because oil-related revenue as a percentage of total revenue — although has been declining — still represents about 20%.
"At the same time, as nominal GDP moderates due to the downward pressure on the global economy because of the Covid-19 outbreak and so on, the budget deficit ratio will tend to increase in tandem," Nor Zahidi added.
He said the government had trimmed its operating expenditures by 3.1% on-year, to reduce the pressure on the budget deficit in 2016 when oil prices crashed. The reduction was done through cut in expenditures relating to supplies and services, and subsidies by 17% and 9% respectively.
'There is room for government to pump-prime'
In terms of the ability to pump-prime the economy, Nor Zahidi said there is still room for the government to raise money through issuing bonds as the current domestic debt ceiling is still lower than the statutory threshold of 55%.
According to the ministry of finance's Fiscal Outlook and Federal Government Revenue Estimates 2020 Report, domestic debts were at 50.7% (or RM769.9 billion) of GDP as at end-June 2019, slight uptick compared with RM719.54 billion or 49.7% of GDP.
The domestic debts mainly consist of Malaysian Government Securities (RM404.2 billion), Malaysian Government Investment Issues (RM330.3 billion) and Treasury Bills, which stood at RM7.5 billion.
Meanwhile, MIER's Jamal Othman said putting the GST back at a lower rate with improved mechanism may also be an option in the intermediate run.
"If needed, may require exogenous injection via a special budgetary allocation from our major income-generating government-linked companies, particularly Petronas," he added.