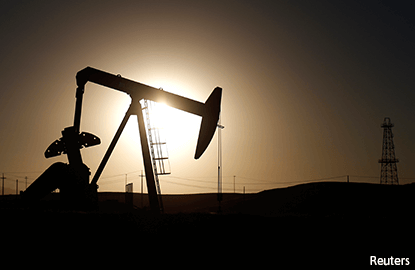 LONDON (March 23): Oil prices dipped on Thursday, struggling to recover from four-month lows because of investor concerns that OPEC-led supply cuts were not yet reducing record US crude inventories.
Benchmark Brent crude oil was trading at US$50.31 a barrel by 1430 GMT, down 33 US cents on the day and hovering above Wednesday's slide to US$49.71, its lowest level since Nov 30 when OPEC announced plans to cut output.
US light crude slipped 39 US cents to US$47.65.
Brent remains well below this year's high above US$58, reached shortly after Jan. 1 when the deal between the Organization of the Petroleum Exporting Countries and non-OPEC states to curb supplies by 1.8 million barrels per day (bpd) came into effect.
OPEC has broadly met its commitments to reduce output, but non-OPEC producers have yet to fully deliver on pledged cuts and US shale oil producers have been pumping more oil after crude prices recovered from last year's drop below US$30.
"Headwinds from rising production and compliance issues will keep the upside limited for now," said Ole Hansen, head of commodity strategy at Saxo Bank, adding that risks were "skewed to the downside" and the upside for Brent was limited to US$53.
Oil ministers from OPEC and some non-OPEC states meet on Sunday in Kuwait, where they are expected to discuss compliance.
Global stockpiles have risen even with OPEC-led cuts. On Wednesday, data from the US Energy Information Administration showed US inventories jumped by a bigger-than-expected 5 million barrels last week to 533.1 million.
London-based Barclays bank offered a more upbeat outlook, saying the latest oil price weakness would not last into the second quarter. The bank forecast a modest price recovery.
"We see a rebound to the high US$50 and US$60 range in 2Q as inventories draw and the market readies for the peak driving and demand season," the bank wrote in a note to clients.
It said inventories held by industrialised nations would be eroded by the end of the second quarter, sliding to OPEC's targeted level of the five-year average.