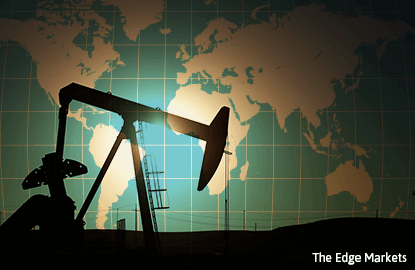 LONDON (March 6): Oil prices softened on Monday as lower economic growth targets in China sparked renewed worries over excess supply, but escalating violence in North Africa underpinned the market.
Brent crude futures were down 10 US cents at US$55.80 a barrel by 1400 GMT after settling 1.5% higher in the previous session.
US crude futures fell 20 US cents to US$53.13 a barrel after closing the previous session up 1.4%.
China lowered its growth target for the year to 6.5%, compared with 6.7% last year, and tightened regulatory controls in an effort to tackle pollution.
Investors are watching the moves carefully for signs they could dampen demand for oil.
The news, along with concerns over Russia's compliance with a deal between OPEC and other producers to trim oil output, reversed some of the late-week gains that came on the back of attacks on Libya's oil ports.
"It's a market where there are no signs of extreme tightness," said Olivier Jakob, managing director at PetroMatrix. "It makes it hard to get a sustained rally."
Still, rival Libyan factions continued to battle for control of export terminals Es Sider and Ras Lanuf. East Libyan forces carried out fresh air strikes on Monday as they attempted to win back control, and the turmoil forced a production cut of 35,000 barrels per day.
Meanwhile, figures from Russia's energy ministry released last week showed February oil output was unchanged from January at 11.11 million bpd, casting doubt on the country's moves to curb production as part of a pact with oil producers last year.
Commerzank said Russia's production would need to fall by a further 100,000 bpd in March to comply with the agreement.
OPEC's compliance with promised cuts of 1.2 million bpd rose to 94% in February, but Saudi Arabia was responsible for the bulk of them, Reuters data showed. Oil brokerage PVM said current OPEC figures left "no room for an annual rebalancing".
"Compliance from the 11 (OPEC) member countries needs to improve and the present agreement needs to be prolonged beyond June in order to achieve meaningful drawdown in global oil inventories," PVM analyst Tamas Varga said.