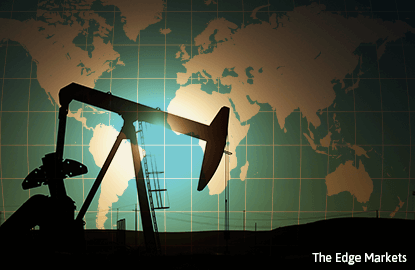 LONDON (March 1): Oil reversed earlier losses on Wednesday as investors took heart from strict OPEC compliance with its pledge to cut output, although evidence of increasing US production capped gains.
The Organization of the Petroleum Exporting Countries reduced its oil output for a second month in February, a Reuters survey found, showing the exporter group has boosted already strong compliance to around 94%.
Heftier cuts by Saudi Arabia and Angola helped offset weaker compliance by other members that agreed to limit their output.
May Brent crude futures were last up 27 US cents at US$56.78 a barrel by 1030 GMT, while US West Texas Intermediate (WTI) futures for April were up 18 US cents at US$54.19.
Oil prices are 23% higher than they were at the end of November, when OPEC announced its deal, but this strength has encouraged more US production to come back online.
"There seems ... to be a consensus within OPEC that the optimal crude oil price is as near as possible to the upper line of our shale band price range (US$40–60 a barrel) but not significantly above," Olivier Jakob, a strategist at consultant Petromatrix, said.
"OPEC will be happy with price stability in the upper half of our shale band (i.e. trying to keep prices in the US$50–60 upper half) and above US$60 a barrel, we will see more OPEC cheating as members do not want to see US shale oil come back too strongly."
Investors were waiting for weekly US inventory data at 1530 GMT.
US crude stockpiles have risen for seven straight weeks. Forecasts for another build last week, this time of 3.1 million barrels, have fuelled worries that demand growth may not be sufficient to soak up the global oil glut.
The market offered little reaction to news of a rise in North Sea crude supply next month. Loading programmes for the four crudes that underpin dated Brent showed a rise to 908,000 barrels per day, from March's 884,000 bpd.
A speech by US President Donald Trump late on Tuesday gave little detail on plans by his administration to boost US oil production.
Traders and investors had expected Trump to include specifics on energy policy in an address to the US Congress.
"If Trump had announced de-regulations of some of the environment protections to make it easier to pump more oil, that might have put pressure on WTI," said Jeffrey Halley, senior market analyst at futures brokerage OANDA in Singapore.