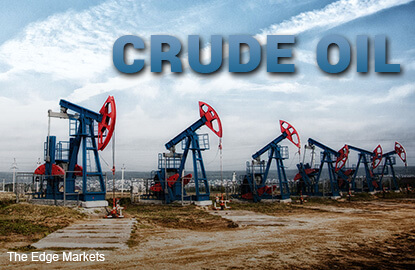 SINGAPORE (Jan 26): Oil prices edged up on Thursday, driven up by a weakening dollar, but gains were capped by plentiful supplies and inventories despite an effort by OPEC and other producers to cut output and prop up the market.
Brent crude futures, the international benchmark for oil prices, were trading at $55.44 per barrel at 0137 GMT, up 36 cents from their last close.
U.S. West Texas Intermediate (WTI) crude futures were at $53.07 a barrel, up 32 cents.
Traders said that the increase was largely down to a weakening dollar, which has lost 3.9 percent in value since its January peak. Since oil is traded in dollar, a cheaper greenback makes fuel purchases less costly for countries using other currencies, potentially spurring demand.
However, oil price gains were capped by data from the U.S. Energy Information Administration (EIA) which showed a 2.84 million barrels increase in commercial crude inventories to 488.3 million barrels, which add to a 6.3 percent rise in U.S. oil production since the middle of last year to 8.96 million barrels per day (bpd).
"EIA estimates that crude oil and other liquids inventories grew by 2.0 million barrels per day in the fourth quarter of 2016, driven by an increase in production and a significant, but seasonal, drop in consumption," the agency said.
Rising U.S. inventories and output are countering efforts by the Organisation of the Petroleum Exporting Countries (OPEC) and other producers including Russia to cut supplies by a almost 1.8 million bpd during the first half of 2017 in an effort to end a global glut.  - Reuters