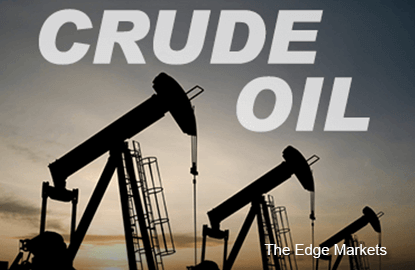 LONDON/SINGAPORE/SEOUL (Aug 27): Oil prices jumped more than 4.5% on Thursday after a rally in equity markets and an unexpected fall in U.S. crude inventories, but worries over the Chinese economy and a global oil glut kept the outlook uncertain.
World stock markets rose as Chinese shares recovered on hopes that government measures to stimulate the economy would pay off, while the dollar strengthened as risk aversion eased.
Oil markets moved up from six-and-a-half-year lows reached earlier this week, but investors are still worried about huge fuel oversupply, which is depressing the price of crude for immediate delivery and filling stockpiles worldwide.
"The trend is strong and down. However, do not be wrong-footed by a correction higher," PVM Oil Associates technical analyst Robin Bieber said. "Few markets head forever in one direction with no respite."
Front-month Brent, the global oil benchmark, was up $1.80 at $44.94 a barrel by 1255 GMT, having hit an intraday high of $45.12. U.S. crude, also known as West Texas Intermediate (WTI), was up $1.60 at $40.20 a barrel.
Phillip Futures oil analyst Daniel Ang said he saw the rally as a pause in a downward trend, rather than a longer-term shift upwards.
"We would not underestimate the current bearish momentum and still believe that it is possible to see prices break supports of $38 and $45 for WTI and Brent," Ang said.
Standard Chartered cut its 2015 Brent forecast by $10 a barrel to $54, and slashed its 2016 forecast by $20 to $63.
It sees macro factors such as a Chinese economic slowdown offsetting improved market fundamentals.
The bank expects U.S. crude to average $48 in 2015 and $58 in 2016.
Oil prices were supported by data on Wednesday showing U.S. crude inventories fell 5.5 million barrels in the week to Aug 21, the biggest one-week decline since early June.
Analysts had expected an increase of 1 million barrels.
But some analysts said the inventory fall may be connected to lower import figures for last week and may not mark the start of a trend.
Many are bracing for a rise in stocks over the coming months as refiners shut for seasonal work.
"Without the sharp fall in imports, crude oil stocks would have been rather flat last week," Commerzbank oil analyst Carsten Fritsch told the Reuters Global Oil Forum.
SEB commodities analyst Bjarne Schieldrop said the U.S. stockpiles figures were not particularly bullish:
"The upturn is more due to broad-based sentiment rising," Schieldrop said. "I still expect Brent will break below $40."