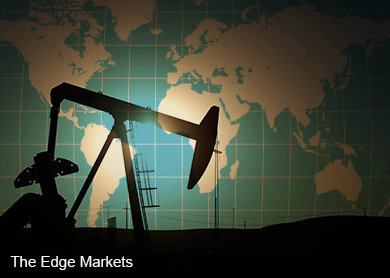 SINGAPORE (Sept 3): Oil fell on Thursday on a surprise build in U.S. inventory levels and a firm dollar, but a recovery in Asian shares after Wall Street posted a near 2% gain checked losses.
Asian investors were focused on the increase in U.S. crude inventories last week, but sentiment had been supported by the rally on Wall Street, said Jonathan Barratt, chief investment officer at Sydney's Ayers Alliance.
"I think any positive news will help. Maybe we'll see not as much volatility," Barratt said.
Brent dropped 31 cents to US$50.19 a barrel as of 0650 GMT, having gained 94 cents in the previous session. Brent hit a low of US$49.95 earlier in the day.
U.S. crude fell 23 cents to US$46.02 a barrel, off the day's low of US$45.65, after settling up 84 cents on Wednesday.
"Although oil may have escaped this round of bearishness, it may not escape the next few weeks with declining refinery capacity," Singapore's Phillip Futures said in a note.
"On the flip side, we are seeing drops in U.S. oil production, which is healthy for prices in the longer run. Thus, would again suggest that the oversupply issue is easing," the note added.
U.S. crude has see-sawed, climbing 27.5% over three trading sessions to Monday's close — its biggest such gain since August 1990 — after plunging to a 6-1/2-year low of US$37.75 a barrel early last week.
Oil would be well supported at around US$42-US$44 a barrel, Barrat said, but a fall below that level could put pressure on some OPEC economies.
"(OPEC production cuts) would only come into play, if there is a sustained fall in oil prices," he said.
Oil producers are currently banking on increased demand from the coming northern winter with refiners shifting production from gasoline to heating oil.
U.S. crude stocks saw an unexpected gain of 4.7 million barrels to 455.4 million in the week to Aug 28, the biggest one-week rise since April, data from the U.S. Energy Information Administration showed. Analysts had expected inventories to remain unchanged.
A firmer U.S. dollar also hurt oil prices by making the commodity expensive for holders of other currencies.
Investors are awaiting the outcome of a European Central Bank policy meeting later on Thursday, while U.S. non-farm payroll data is due on Friday. Chinese markets are closed for a holiday on Thursday and Friday.