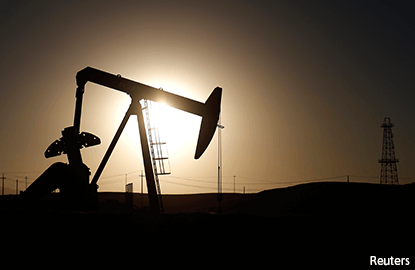 SINGAPORE (Jan 31): Brent crude oil prices fell around 5% from their early January peak as rising US drilling activity offset efforts by OPEC and other producers to cut output in an effort to prop up the market.
Brent crude futures, the international benchmark for oil prices, were trading at US$55.25 per barrel at 0112 GMT, virtually unchanged from their last close.
US West Texas Intermediate (WTI) crude futures were at US$52.58 a barrel, down 5 US cents from their previous settlement.
However, Brent sagged over 5% since its peak in early January and WTI is down over 2.5%, reflecting a sentiment that efforts led by the Organization of the Petroleum Exporting Countries (OPEC) to cut output by almost 1.8 barrel per day (bpd) in order to end overproduction were so far not big enough to offset rising US drilling.
"Crude oil prices continued to struggle as traders remained concerned about increasing drilling activity in the US," ANZ bank said on Tuesday.
Following months of rising drilling activity, US oil production has risen by 6.3% since July last year to almost 9 million bpd, according to data from the US Energy Information Administration.
US bank Goldman Sachs estimates that year-on-year US oil "production will rise by 290,000 bpd in 2017" if a backlog on rigs that are still to become operation