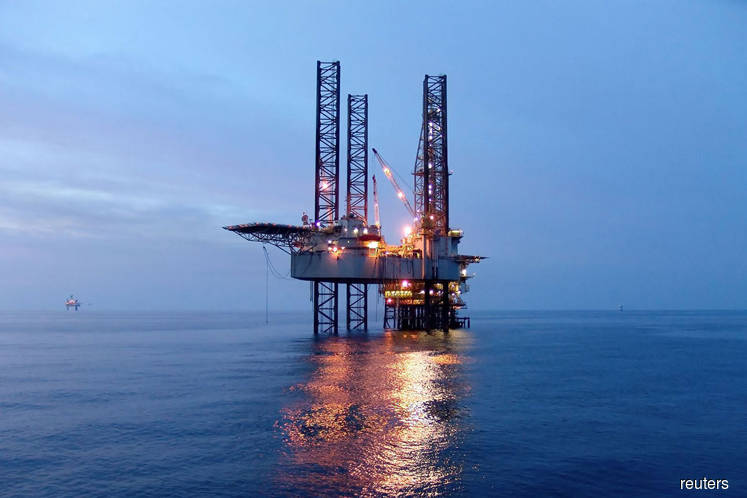 KUALA LUMPUR (Feb 9): Oil & gas (O&G) counters resumed their downward trend in early trading after oil prices fell below the US$65 level to US$64.33 per barrel — a level not seen since the end of last year.
The fall in global stock markets after the US's Dow Jones Industrial Average plunged 1,032.89 points or 4.15% to close at 23,860.46 points is not helping market sentiment at the moment either.
The O&G players were among the top active counters with most in the red as this was after crude output from US wells jumped to 10.25 million barrels a day last week. The strengthening of the US dollar also adds to the decline in the oil price.
Counters such as Hibiscus Petroleum Bhd, Sapura Energy Bhd and UMW Oil & Gas Corp Bhd (UMW-OG), which have seen a strong rally at the beginning of the year, were all in the red.
At 2.09pm, shares in Hibiscus Petroleum were down 3 sen or 3.51% at 82.5 sen with 37.63 million shares traded, while UMW-OG's share price fell one sen or 3.17 % to 30.5 sen, with 27.6 million shares changing hands. Sapura Energy also slipped by 0.5 sen or 0.71% to 69.5 sen with about 23.5 million shares traded.
To put into perspective, Hibiscus has seen its share price jumped to a three-year high of RM1.15 at the beginning of this year before the decline seen this week, which erased the entire gain seen in 2018, falling by 7.8% year-to-date (YTD).
Similarly, UMW-OG has seen an increase of 49.2% to its six-month high of 45.5 sen by the beginning of the second week of trading in 2018 but the recent collapse in its share price has brought it back to its closing at the end of last year.
Sapura Energy also saw a see-saw trend as its share price jumped by 37.3% to its 10-weeks high of 97.5 sen during the first week of trading in 2018 before falling by 28.7% in a matter of five weeks to 67.5 sen by the first half of trading today. YTD, Sapura Energy's share price has fallen by 2.1%.