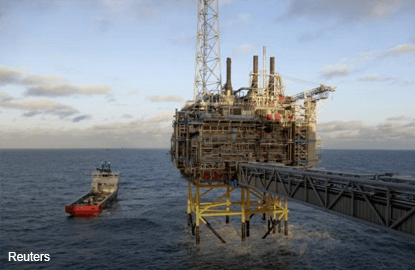 LONDON (Feb 27): Oil prices rose on Monday as investors showed record confidence in prices rising further, though gains were capped by the prospect of faster growth in US oil production.
Brent crude oil rose 58 US cents to US$56.57 a barrel by 1433 GMT, while US West Texas Intermediate added 47 US cents to US$54.46.
Investors raised their bets on rising Brent crude oil prices to a new high last week, data from the InterContinental Exchange showed on Monday, breaking the 500,000-lot mark for the first time on record.
Money managers also raised their bullish US crude futures and options positions in the week to Feb. 21 to the highest on record, the US Commodity Futures Trading Commission (CFTC) said on Friday.
Investors now hold 951,312 lots' worth of US and Brent crude futures and options, equivalent to nearly 1 billion barrels of oil and valued at more than US$52 billion, based on current Brent and WTI benchmark prices.
"With speculators increasing their bullish bets on US crude to an all-time high, the risk of disappointment and subsequent downward spiral in prices has never been greater," oil brokerage PVM's Stephen Brennock said.
Among the risks is the level of compliance to the deal between the Organization of the Petroleum Exporting Countries (OPEC) and other producers to bring down oil output by about 1.8 million barrels per day (bpd).
OPEC's record compliance with the deal has surprised the market, and the biggest laggards, the United Arab Emirates and Iraq, have pledged to catch up with their targets.
The International Energy Agency put OPEC's average compliance at a record 90% in January. Based on a Reuters average of production surveys, compliance stands at 88%.
A Reuters survey of OPEC production later this week will show compliance for February.
Looming over the success of the deal is the reaction of US shale producers to rising prices and their ability to increase output.
US drillers added five oil rigs in the week to Feb. 24 to 602, the most since October 2015, energy services firm Baker Hughes Inc said on Friday.
Over the past two weeks the US implied shale oil rig count went up by 15.
" is marginally higher than our projected 7 rigs per week for first half 2017," wrote Nordic bank SEB chief commodities analyst Bjarne Schieldrop.
The bank has adjusted its dynamic price forecast for 2019 marginally lower, from US$68.30 a barrel to US$67.90.