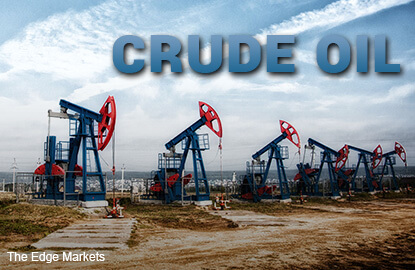 SINGAPORE (March 1): U.S. crude lost more ground on Wednesday on rising U.S. oil output, although OPEC production cuts continued to offer support.
A decline in U.S. gasoline futures on Tuesday also pressured broader oil markets.
West Texas Intermediate crude futures had fallen 8 cents, or 0.2 percent, to $53.93 a barrel by 0023 GMT, while Brent crude was yet to start trading.
U.S. crude stockpiles have risen for seven straight weeks. Forecasts for another weekly build, this time of 3.1 million barrels last week, fuelled worries that demand growth may not be sufficient to soak up the global crude oil glut.
Gasoline was under pressure on the final trading day for the March contract, the final month in which gasoline that complies with environmental standards for winter-grade fuel is offered. Abundant supplies of the fuel, which has different additives from those required in the summer, have weighed on prices.
"Signs that the U.S. shale industry is recovering weighed on the market," ANZ said in a report.
"One of the biggest shale producers, EOG Resources said it had boosted its drilling budget by 44 percent after the recent rally in prices."
U.S. stockpiles rose 2.5 million barrels in the week to Feb. 24, according to a report from trade group the American Petroleum Institute. Gasoline stockpiles rose unexpectedly and distillate stockpiles fell more than expected, the API said. Crude declined slightly on the report.
The official report from the U.S. Energy Information Administration is due at 1530 GMT on Wednesday.
The Organization of the Petroleum Exporting Countries (OPEC) has cut its oil output for a second month in February, a Reuters survey found on Tuesday, allowing the exporter group to boost already strong compliance with agreed supply curbs on the back of a steep reduction by Saudi Arabia. - Reuters