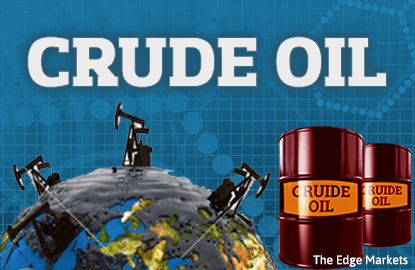 LONDON (March 2): Oil prices fell on Thursday after US crude stocks hit an all-time high and official data showed Russian oil production unchanged in February, with no further cuts to tighten the market and drain global oversupply.
Benchmark Brent crude oil fell US$1.06 a barrel to a low of US$55.30, before recovering to around US$55.70 by 1445 GMT. US light crude was 70 cents lower at US$53.13.
Crude inventories in the United States, the world's biggest oil consumer, rose by 1.5 million barrels last week to a record 520.2 million barrels, official figures showed.
Russia's oil output was unchanged in February from January at 11.11 million barrels per day (bpd), signalling a pause in Moscow's efforts to curb production as part of a global deal, energy ministry data showed on Thursday.
Crude oil prices slipped after the release of the Russian data but remained within tight trading ranges, supported by evidence of OPEC production cuts designed to reduce the oversupply that has weighed on prices for more than two years.
The Organization of the Petroleum Exporting Countries cut its oil output for a second month in February, a Reuters survey found, showing the exporters' group has boosted already strong compliance to around 94 percent.
Russian Energy Minister Alexander Novak said on Thursday it was too early to say if the deal to reduce oil production would be extended beyond the end of June. OPEC, Russia and others are due to agree on output policy in the next three months.
"It is premature to talk of what we will discuss in April-May," Novak told Reuters in an interview.
Novak forecast Brent crude would average between US$55 and US$60 a barrel this year, with Russia's flagship Urals crude oil blend probably trading US$2-US$3 a barrel below that.
Oil prices have been unusually stable since oil producers agreed in November to reduce output, with both Brent and US crude locked in US$5 a barrel ranges.
"There is a very stale smell hanging over the market," Ole Hansen, head of commodity strategy at Saxo Bank in Copenhagen, told Reuters Global Oil Forum.
"I still see the risk of US$50 a barrel before US$60 on Brent, but have to acknowledge that we have so far seen very limited selling appetite."