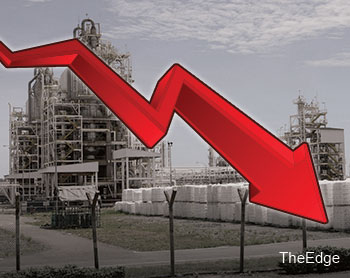 KUALA LUMPUR (Oct 16): Oil and gas (O&G) stocks extended losses today as Brent crude futures fell to near four-year lows on concerns that global supply is outpacing demand.
O&G heavyweight SapuraKencana Petroleum Bhd (SKP) fell to as low as 6.7% to RM3.18 today, while Coastal Contracts Bhd and KNM Group Bhd slid as much as 7.4% to RM3.50  and 4.2% to 69 sen respectively.
At 2:54pm, SKP fell by 5.97%  to RM3.21, while Coastal dropped 7.41% to RM3.50 and KNM fell 2.08% to 70.5 sen.
Bloomberg today reported that Brent for November settlement declined by US$1.26, or 1.5% to close at US$83.78 a barrel on the London-based International Petroleum Exchange (ICE Futures), its lowest close price since Nov 23, 2010.
The article also stated that West Texas Intermediate (WTI) for November settlement fell by 6 cents to US$81.78 a barrel on the New York Mercantile Exchange, the lowest since June 28, 2012.
In a note, AmResearch Sdn Bhd said that the WTI and Brent crude oil prices registered monthly averages of US$93.03 and US$98.57 per barrel respectively in September.
"As at year to date September, the average crude oil prices for WTI and Brent were USD$99.62 and US$ 106.99 per barrel respectively, as a recap, Bank Negara Malaysia's full-year price assumption for crude oil is US$105 per barrel for 2014," said AmResearch.
BIMB Securities Sdn Bhd has placed an "overweight" call on the O&G sector, advising investors to accumulate on O&G companies that are backed by solid orderbooks and earnings visibility.
"In view of the recent price retracement, we advocate investors to take the opportunity to buy on weakness and selectively accumulate values stocks with strong growth potential and orderbook," said BIMB in its note to clients today.
The research house placed "buy" calls on Dayang Enterprise Holdings Bhd with a target price (TP) of RM4.15, Uzma Bhd with a TP of RM4.08 and UMW Oil & Gas Corp Bhd with a TP of RM4.31.