This article first appeared in City & Country, The Edge Malaysia Weekly, on July 22, 2019 - July 28, 2019.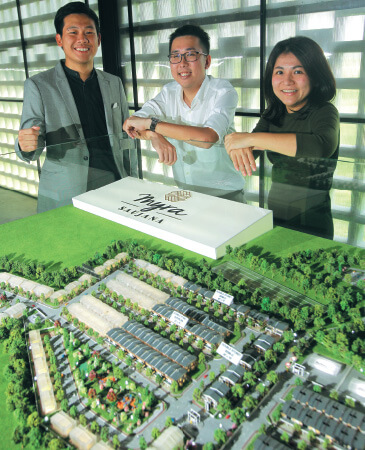 From left: Goh, MacFarlaine and Lim with a model of Myra Saujana, a freehold mixed-use development comprising 51 acres of residential products and 50 acres of commercial components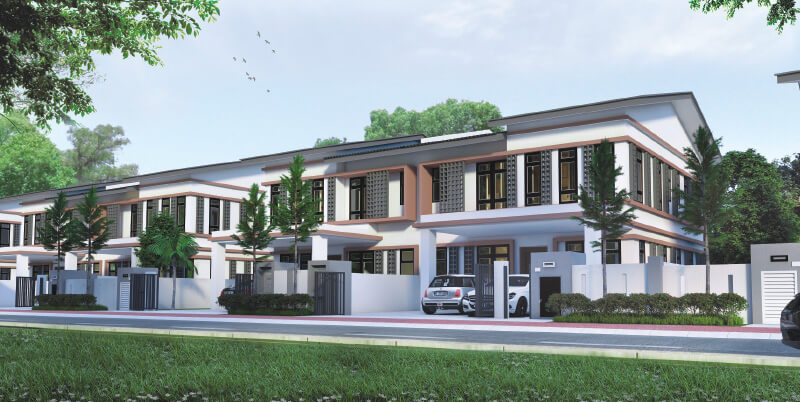 Artist's impressions of the development's semidees superlink houses. Pictures by Oriental Interest
While Oriental Interest Bhd (OIB) will officially launch the second phase of Myra Saujana in Sungai Merab, Kajang, next month, the project has been open for sale since end-June. Phase 1 was launched last year and features 63 two-storey superlink houses, all of which have been sold.
Myra Saujana is part of a freehold mixed-use development comprising 51 acres of residential products and 50 acres of commercial components with a combined gross development value (GDV) of about RM600 million.
Phase 2 of Myra Saujana has a GDV of RM66.6 million and will feature 56 two-storey superlink houses and 20 two-storey semi-detached houses.
For the superlink houses, the built-up of each corner unit will be 2,370 sq ft while that of the intermediate unit will be 2,338 sq ft. Priced from RM750,000, each home will have 4 bedrooms and 4 bathrooms, and a land area of 22ft by 70ft.
There are two designs for the semidees. The 12 Type A units will each have a built-up of 2,545 sq ft with 5 bedrooms and 4+1 bathrooms. Priced from RM1.094 million, each home will have a land area of 40ft by 75ft.
The Type B houses are priced from RM1.178 million as they will have much bigger built-ups of 2,700 sq ft and land area of 45ft by 75ft per unit. There will only be eight such units and each will have 5 bedrooms and 5 bathrooms.
All the houses will come with 11ft ceilings.
Marketing manager Ken Goh says the semidees will not be the largest in the market.
"The price of properties in Putrajaya and its surrounding area is skyrocketing and it is very difficult for the majority of people who work and live there to own a home. We could build semidees that are 3,000 to 3,500 sq ft with 6 or 7 bedrooms but we realise that that isn't what the market is looking for," he explains.
Phase 2 is targeted at professionals with small families who do not spend a lot of time at home. "After spending a large amount of their time in the office, they would not want to come home and have to manage a big house," Goh points out.
In terms of the overall design and offering, Phase 2 will have a lot of the things that were introduced in Phase 1, he says.
"Myra Saujana is not a stratified project but we still want to include things like landscaping and incorporate as much greenery as possible. We also want to make sure we maintain the [50ft] wide roads to give a feeling of openness and a sense of space."
Sales and marketing general manager Wendy Lim says, "The residents will enjoy everything (all the facilities) like a strata development but it is just that the title is individual, so they are not bound by the restrictions of strata developments."
Myra Saujana will have an overall theme of nature and greenery, says Goh. "The whole development will have a botanical garden concept."
Facilities will include perimeter fencing and a guardhouse, public parks, playgrounds and jogging tracks.
The project will cater for the various needs of its buyers, especially those who are working and living in Putrajaya, Kajang and Bangi. Goh discloses that 95% of buyers for Phase 1 are owner-occupiers and about 80% of them come from the surrounding areas. Interestingly, some buyers come all the way from Ampang, he says.
This is because OIB has always designed its houses with the buyers in mind, says customer experience general manager Keith MacFarlaine. "They are tired of the traffic jams, not having enough green space and paying an exorbitant price for a house. So this is where we come in. At the end of the day, we are trying to build homes that families can move into."
Located about 400m away and opposite the residential component of Myra Saujana is its commercial component, which the developer plans to open for sale either by the end of the year or early next year, says Lim. It will comprise serviced apartments, small offices/home offices and retail lots.
The development is accessible via the Maju Expressway, Kuala Lumpur-Seremban Expressway, South Klang Valley Expressway, North-South Expressway Central Link and Putrajaya Ring Road.
Nearby amenities include schools (Nexus International School, SK Desa Pinggiran Putra and SM Vokasional Sepang), shopping malls (IOI City Mall, DPULZE Shopping Centre and Alamanda Shopping Centre) and healthcare facilities (Hospital Serdang and Klinik Hanita).
Other projects
OIB has several projects under the Myra brand in Selangor.
The developer is looking to obtain the certificate of completion and compliance for Phase 1 of Myra Meranti in Kampung Pulau Meranti, Puchong, by the end of the year. Launched in 2017, Phase 1 is fully sold. Phase 2, which was launched last year, is 60% to 70% sold and Lim says the company is targeting to sell all the units by this quarter.
Meanwhile, Phase 1 of Myra Alam in Puncak Alam was launched last year and has seen a take-up rate of 65%. It will comprise 106 two-storey terraced houses with a land area of 20ft by 70ft each and built-ups of 1,542 to 1,865 sq ft.
In September, OIB plans to launch 38 two-storey terraced houses in Taman Seri Bestari 2 and 89 two-storey terraced houses in Desa Seri Vista 2.
Both developments are located in Salak Tinggi.
In the fourth quarter of the year, the developer intends to launch two mixed-use developments — one in Nilai Impian and the other in Jenderam — as well as Myra Gardens in Kundang. The latter will be a purely residential development on a 70.6-acre leasehold tract.
OIB is launching mainly landed products because it sees more demand for this type of property, based on market sentiment, says Lim.
Another project called Myra Putra is open for booking now. It will comprise 200 landed units — which come under the Ministry of Housing and Local Government's MyHome scheme — in Desa Pinggiran Putra.
From now until next year, OIB aims to get approvals for RM800 million worth of launches in the central region, says Lim. "But we won't be launching everything in one shot. They will be separated into many phases."
When asked if the company is looking into developing projects in the Kuala Lumpur city centre, she says now is not the right time. "At present, we still want to strengthen our presence where we are strong."
MacFarlaine says the developer made the decision to build on the fringes of the city because it wants to add value to those locations. "If you ask us whether we can add value to sites next to KLCC, the answer is, we are not sure."
Value does not just mean financial value, he continues. Citing the jogging track in Myra Saujana as an example, he says, "We added that in not because we wanted to give another facility or selling point but because we realise that people like to take a walk in the evening.
"For us, as a developer, we believe we should be looking at trying to enhance or create value for our customers. We don't have the answers for everything. But what we are trying to be good at is providing people with what they need," he remarks.