This article first appeared in City & Country, The Edge Malaysia Weekly, on August 10, 2020 - August 16, 2020.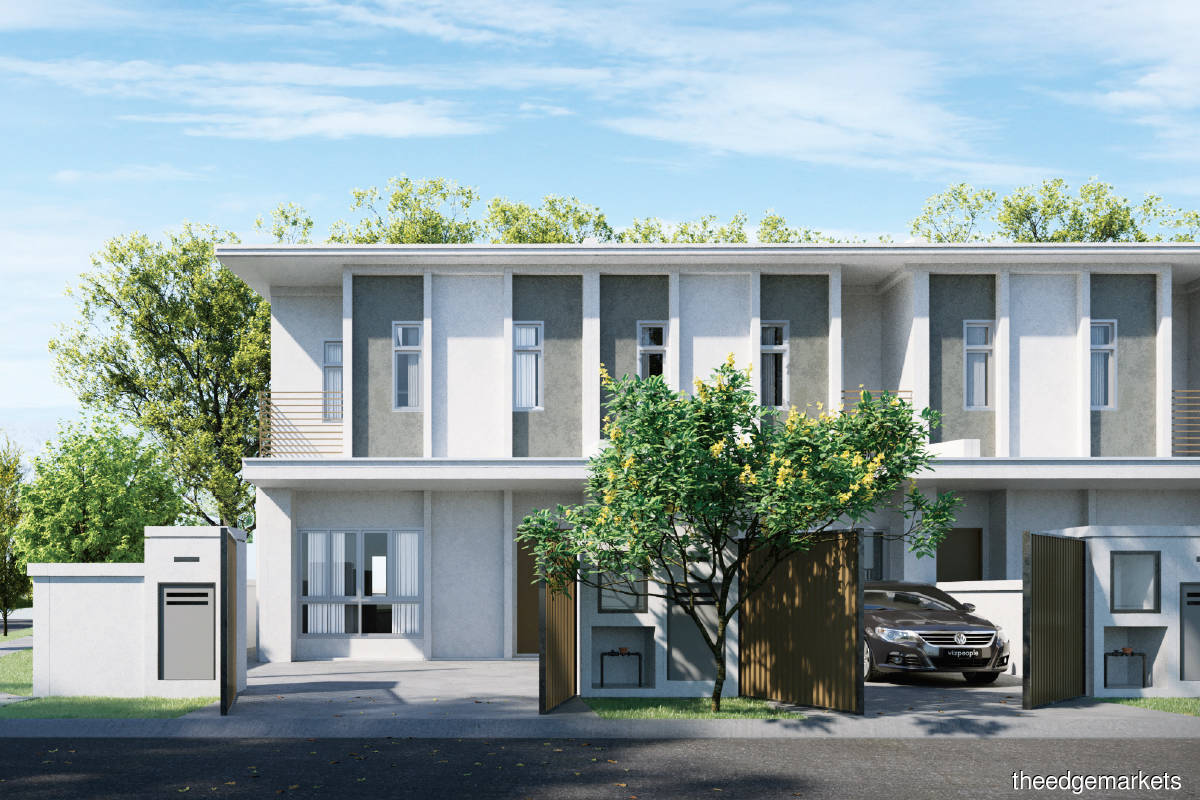 Oriental Interest Bhd's (OIB) latest project, Myra Gardens, is a pure residential, gated and guarded development. Located in Kundang, it sits on a 70-acre leasehold parcel and will comprise 587 two-storey terraced houses and 616 units of Rumah SelangorKu in four high-rise buildings. The gross development value is RM440 million.
Phase 1, which will comprise 96 terraced houses, will be open for sale this month. The 3-bedroom, 3-bathroom units will measure 20ft by 70ft, with built-ups of 1,654 sq ft. Prices start from RM429,000.
Myra Gardens is accessible via the Kuala Lumpur-Kuala Selangor Expressway (LATAR), Guthrie Corridor Expressway and North-South Expressway.
According to head of marketing and branding Ken Goh, Myra Gardens is OIB's first landed strata development. As such, it has put extra thought and effort into designing the facilities and environment. Landscaping will be included in the communal areas as well as the liveable areas.
"So, there will be landscape for the back lanes and surrounding areas of the houses, which will be maintained for residents," he says.
A 7.8-acre parcel is allocated for a clubhouse (gross floor area of 20,765 sq ft), which will have a lake adjacent to it and be open to all residents of Myra Gardens. Facilities provided in the clubhouse include a gym, swimming pool, library, co-working space, cafeteria and kindergarten.
Having these facilities nearby is an added bonus for residents, as they do not need to worry about signing up for a gym membership or driving out for a jog, says Goh. "So, it is really that lifestyle and environment that we want to be able to provide."
The target market for Phase 1 is first-time homebuyers, says sales, marketing and business development general manager Wendy Lim. Thus, the built-up is slightly smaller but the pricing is attractive and affordable.
The built-ups for later phases will increase to 2,400 to 2,500 sq ft and the land area will be 22ft by 70ft and 24ft by 75ft. These larger units, which will have four to five bedrooms, will probably attract the upgraders who are aged 35 to 45, says Lim.
"You get the best of both worlds for this project, where you get the facilities while staying in a landed home. Normally, this kind of scheme is more for the higher-end market. But we want to make it affordable and possible for everybody to own [a house] and live in this kind of environment," she adds.
For OIB, Kundang is an upcoming area and Myra Gardens is considered the nearest to Damansara in terms of landed residential property. As Kundang is connected to highways such as LATAR, access to areas such as Kepong, Damansara, Sungai Buloh and Ampang is easy and convenient.
Goh notes that there is demand for landed homes in Kundang, mainly from young homebuyers, especially those who are not keen to live in high-rise buildings. "Developing in that area makes sense for us, as we see the potential with the accessibility and the demand for landed homes."
Ongoing and upcoming projects
According to Lim, the developer achieved RM75 million in bookings during the Movement Control Order (MCO). Currently, it is in the process of converting these bookings into sales.
The developer will launch the final phase of Myra Alam soon, and it will comprise more than 60 two-storey terraced houses. Launched in 2018, Myra Alam is located in Puncak Alam and the earlier phases have been taken-up.
Phase 2 of Myra Saujana in Sungai Merab, Kajang features 56 two-storey superlink houses and 20 two-storey semi-detached houses. It was launched last year and has seen a take-up rate of 65%. This month will see the handover of Phase 1, which was launched in 2018.
The developer is looking to launch another phase of semidees soon. Opposite Myra Saujana is another parcel of land, dubbed Myra Saujana 2, and the developer is looking to launch its first townhouse project in the fourth quarter of this year.
The residential component of Myra Meranti in Kampung Pulau Meranti, Puchong, is fully sold and the developer is focusing on selling 18 shoplots.
Early last month, a new development in Salak Tinggi — Myra Vista — was launched. Sitting on a 7.65-acre Malay reserve parcel, Phase 1 comprises 32 two-storey terraced houses and has received 70% bookings.
This month will see the official launch of OIB's first industrial park in Pulau Indah. Known as Indspace Pulau Indah, the industrial park will sit on a 200-acre tract and will comprise 40 industrial lots.
There are two projects in the pipeline — a mixed-use development in Nilai Impian and a condominium development in Cyberjaya. The developer is awaiting approval for the building plans for the former and already planning for the sales gallery and show units.
Looking beyond selling products
The Myra brand was conceptualised as a sub-brand for first-time homebuyers and the younger market, says Goh. As time passed, however, the developer recognised that the brand had a bigger potential. As such, in the short to mid-term, the developer will be expanding the brand with initiatives for young homebuyers.
The target audience of products under the Myra brand is the 25-to-40 age group, along with some products for older clientele, says Lim. As such, the younger crowd has been showing a lot of interest.
The challenge for buyers, she says, is obtaining financing. While Lim believes banks should not tighten the lending requirements too much, she says the developer will screen bookings thoroughly and help potential buyers.
Although the developer is looking into financial schemes to help buyers, its priority is on education, which is part of the expansion plan for the Myra brand.
Goh notes that many young people want to buy a house but they do not understand the feasibility of it or the finances and legality behind it. "When people walk into a sales gallery, what they get is a product pitch. But what we want to do is educate them and make sure they are prepared to buy a home before having to sign and seal the deal.
"We want to create a culture of educating that we feel has been overlooked by the industry as a whole. If other developers picked up on this, it would be great because we get more educated or savvier homebuyers who make smarter decisions. This, in turn, will create a better position for our economy, the property market and the nation," he explains.
The developer is working to build a digital and physical community for first-time homebuyers that will include education and sharing of knowledge. There might be collaborations with financial consultants and institutions to offer young people financial planning advice.
It will be a long-term commitment and not just a one-off marketing gimmick, says Lim, and it is evident on its Myra website.
"Our Myra website has received a lot of positive comments. No products are listed on it but, rather, we want to start off with understanding you better and, later on, push relevant information to you. There is a little nifty guide that we put up for first-time homebuyers," she explains.
The website is a work in progress and the developer is looking to put in information on its projects, she says. For now, it will be maintained as a resource centre for homebuyers, especially for first-timers.
"When people — whether they are our customers or not — see the Myra brand, we want them to see a developer that is going to educate and build a relationship [with them]. We want to be disassociated from the idea of just selling something to them and to be associated with providing guidance, support and edu­cation," Lim says.