This article first appeared in City & Country, The Edge Malaysia Weekly, on September 12, 2022 - September 18, 2022.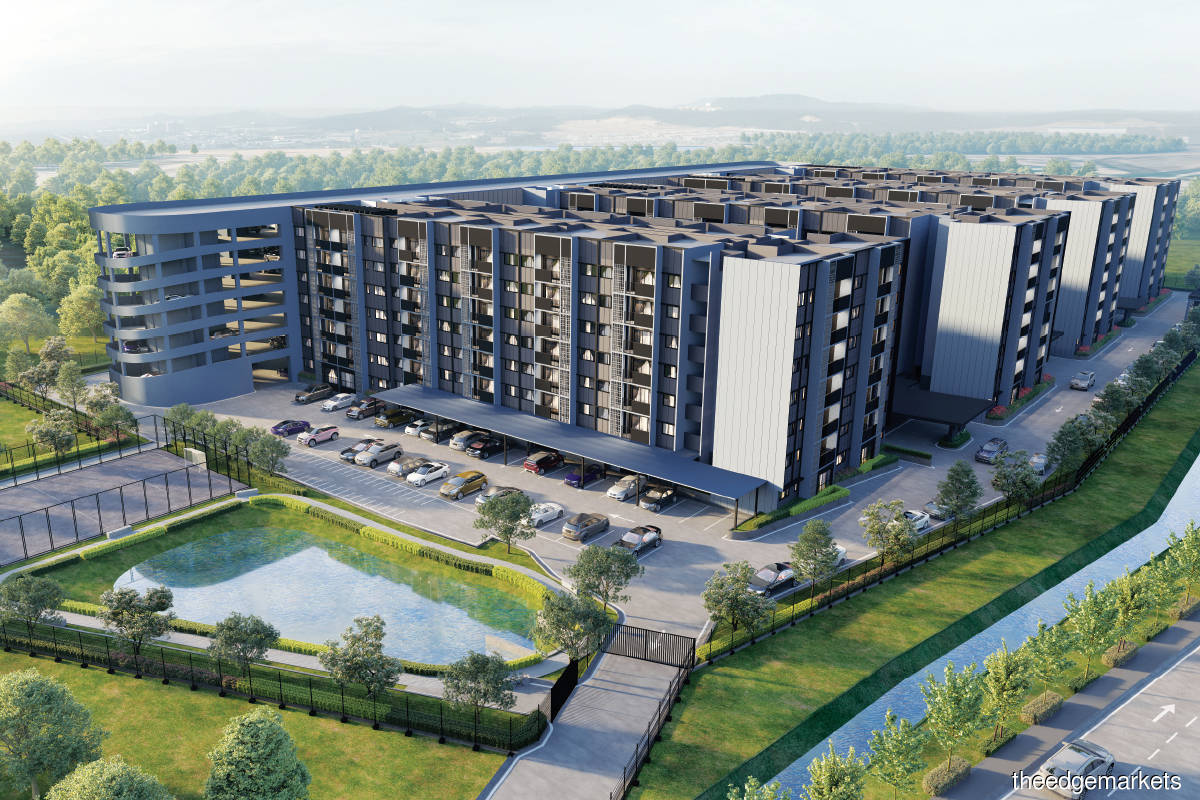 The OIB (Oriental Interest Bhd) Group has remained steadfast in its focus — to design and build products for genuine homebuyers, according to its general manager of business development Wendy Lim.
"It could be the reason why we have barely been affected by Covid-19 over the past two years," she says.
Lim tells City & Country that the group recorded its highest revenue in five years in the financial year 2021 (FY2021) ended August 2021. "We are closing our FY2022 this month [August] ... and our revenue and profit continue to grow."
While the pandemic has affected the progress of OIB's construction and interrupted new project launches as with any other industry player, Lim points out that housing demand does not seem to have wavered, as reflected in the strong sales performance of the group's ongoing projects in the past couple of years.
"Covid-19 has actually been kind to us," she says. "It gave us the opportunity to demonstrate the strengths of our ongoing projects, especially our landed properties, because everyone was seeking a larger space during the lockdown.
"We take pride in every project that we launch because we invest a lot of time and effort in designing for the local market. Alea Resi-
dence is another project that we designed for Puncak Alam, which is dominated by landed houses."
Alea Residence is an uncommon stratified apartment project as the 7-storey, low-rise and low-density development offers a same-level parking concept design, akin to living in a house. Sitting on 5.92 acres of leasehold land within the Myra Alam township development in Puncak Alam, Alea Residence consists of five stand-alone, interconnected low-rise buildings: four are residential blocks while one is a car park podium. All five buildings are seven storeys tall.
Alea Residence offers only 364 apartment units spread equally over the four residential blocks. Each floor of all four blocks is connected to the parking podium via a sky bridge. Every unit comes with two side-by-side parking lots, which are allocated on the same level as the unit.
Built-ups range from 861 to 1,055 sq ft, and there are four layout designs to choose from. Prices start from RM394,000. The development has a gross development value (GDV) of RM138 million.
"Buyers in Puncak Alam and the vicinity such as Rawang and Ijok are mostly staying in landed [houses] and they are used to the lifestyle. The last land parcel in Myra Alam is not very big and the rectangle-shaped land has a plot ratio of 60 units per acre. 
"We thought of [building] townhouses as most of our target buyers are living in landed houses and they prefer to stay in landed houses for reasons such as space, parking at their doorstep, low density and so on. And townhouses could offer something similar as a landed property.
"However, we decided on low-rise apartments in the end. Taking inspiration from Australia's low-rise courtyard apartment, we decided we would have something similar, but to localise it.
"In Malaysia, we definitely need more parking lots. This is where the 7-storey stand-alone parking podium comes in and it actually serves as our central point when planning the entire project. Every decision we make, such as the number of units per floor, the unit layout and size, we always relate back to the car park podium. It is the core of the entire project," Lim shares.
For example, she elaborates, to keep the walking distance between the car park podium and the furthest unit within 100m, or about three minutes' walk, each floor only has 13 units, or six or seven units on each side of a block.
Also, with the parking lots on the same level, this cuts down on the use of passenger lifts, hence every block has only one passenger lift.
Courtyard living
Alea Residence offers three themed courtyards located between the residential blocks: Gala, Serene and Kinetic.
"Having three courtyards means buyers have different views to choose from. Those who are more active can opt for Block B or C, with the Serene Courtyard in between. The courtyard has a gym, a swimming pool and a wading pool. Meanwhile, families might prefer a unit in Block C or D as the Kinetic Courtyard offers a children's playground, daycare services, a reading room and a badminton court. The Gala Courtyard, which is in between Block A and B, has facilities such as a laundry bar, a BBQ pavilion and a multipurpose hall," says Keith MacFarlaine, OIB's general manager of customer experience.
Other facilities such as a futsal court, jogging track, landscape pond and lawn are located on the open land next to the inner road of Alea Residence, opposite Block A. All three courtyards are interlinked by covered walkways at the ground level, as well as from the car park podium. Residents share all the facilities. The maintenance fees, including the sinking fund, will be between 25 and 30 sen psf.
"The distance between each block is 80 feet [24.38m], and each unit's balcony is partially covered with a brick wall to provide some privacy as most units are facing other units due to the courtyard design. However, we do have some units that are facing the main roads if buyers prefer a more open view. We make sure there is something for everyone," MacFarlaine shares.
He adds that there are ground floor units with parking lots right at the doorstep for those who want both the convenience of landed living and a wide range of facilities. "We also have four units designed for wheelchair users. Those units are designed with wider doors, floor drops have been replaced by ramps, and there is a handle in the toilet. They are wheelchair- and senior-friendly units.
Alea Residence opened for registration of interest in August and the response has been encouraging. The group is looking to officially launch the project this month.
"You don't see this kind of project every day and everywhere. I think our target buyers are happy with the concept. Some are familiar with our company as we have been here [in Puncak Alam] a few years. The most asked question [about Alea Residence] is when it will be completed," MacFarlaine says with a smile. "It will be ready in 2025."
Gearing up for more launches
Lim shares that the first phase of Myra Alam, with an occupancy rate of around 80%, has been handed over to buyers. The remaining units will be ready for handover by the end of next year.
With the launch of Alea Residence, the total GDV of OIB's FY2022 launches is close to RM900 million.
"For the remainder of calendar year 2022, we hope to launch a new phase in our Kundang project, as well as projects in Sepang, Nilai, Bandar Baru Salak Tinggi, Subang Bestari, Cyberjaya, Desa Pinggiran Putra in Putrajaya and Sungai Merab in Bangi."
OIB is optimistic about the overall property market as demand for housing has always been strong no matter the circumstances.
"Now, the biggest challenge we are facing in closing a deal is end-financing. We have to go the extra mile to assist our buyers in securing the loan. Our booking conversion [to sales] rate is about 70%, which is still manageable. Otherwise, I think the market is bullish. We plan to launch more projects or new phases in the coming years," Lim shares.
Currently, the developer has a portfolio of 1,060 acres with an estimated GDV of RM5 billion, which could be sustained until 2025.
An enthusiastic Lim says, "We are always on the lookout for more land, especially in the Klang Valley and the northern region. So, watch this space as OIB will be announcing more new projects soon!"