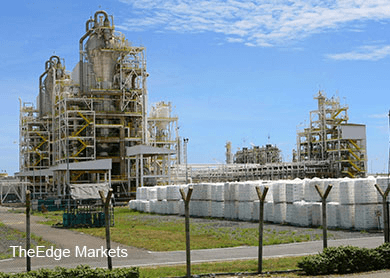 PETALING JAYA (June 29): Oil and gas (O&G) stocks on Bursa Malaysia are heading south today as the crude oil prices drop below US$59 per barrel coupled with the broad bearish sentiment caused by Greece's worsening debt problems.
Greece imposed capital controls after the Eurozone rejected the country's request to lengthen a bailout programme beyond June 30.
Back at Bursa, in the afternoon trade, KNM Group Bhd shares shed 3.5 sen or 5.56% to 59.5 sen, with a total of 29.94 million shares traded. It is the fifth most actively traded stock on Bursa Malaysia.
Sapura Kencana Petroleum Bhd shares fell 7 sen or 2.9% to RM2.34, with some 6.58 million shares done. Uzma Bhd shares dipped 17 sen or 6.75% to RM2.35, with a total of 270,600 shares traded.
Petronas Gas Bhd shares fell 26 sen or 1.21% to RM21.22, with a total of 477,300 shares done.
The selling on O&G stocks was mainly due to the current bearish sentiment, said an analyst.
Reuters had reported today that oil prices fell to a three-week low amidst developments in the Greek financial crisis.
After Eurozone finance ministers rejected a request from Greece to extend its bailout programme beyond June 30, concerns are rife that the country's failure to finalise a deal with international investors and settle a $1.7 billion payment to the International Monetary Fund will trigger its exit from the Eurozone.
Greece had also announced to hold a July 5 referendum on bailout terms that will only be finalised after its bailout programme expires tomorrow, which only complicates matters.
According to Bloomberg data, WTI crude oil dipped 9 cents or 1.51% to US$58.73 per barrel today from a high of US$61.63 on June 10.
Brent crude oil dipped 8 cents or 1.26% to US$62.46 per barrel today, down from a high of US$66.26 per barrel on June 10.
Oil prices had halved since its high of US$115 per barrel a year ago, due to a surplus in production from American oil shale reserves.
Prices stabilised at the end of January this year, showing a minimal uptrend until mid-April this year, when prices rebounded to trade above US$60 per barrel.