This article first appeared in The Edge Financial Daily, on June 4, 2019.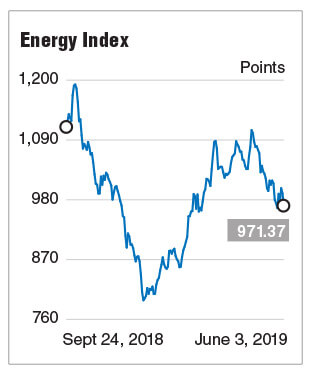 KUALA LUMPUR: Most oil and gas (O&G) counters on Bursa Malaysia headed south in tandem with lower crude oil prices. Last week, crude oil prices saw their worst weekly drop year to date.
Brent crude oil prices lost US$6.78 (RM28.34) per barrel (bbl) in the last four days of May, closing at US$61.99 per bbl, the lowest since January.
Commodity futures extended their decline early yesterday, resulting in a knee-jerk reaction among Malaysian O&G counters, before rebounding after the local market closed at US$62.26, at the time of writing.
The Bursa Malaysia Energy Index retreated 2.05% yesterday, dragged by Serba Dinamik Holdings Bhd falling 10 sen or 2.44% to RM4. Sapura Energy Bhd slid half a sen to 29 sen and Velesto Energy Bhd fell 1.5 sen to 27.5 sen.
Also in negative territory: refiners Petron (M) Refining & Marketing Bhd was down 12 sen or 1.83% to RM6.45, and Hengyuan down 10 sen or 1.85% to RM5.30. Oilfield operator Hibiscus Petroleum Bhd, topping Bursa Malaysia's most active list, fell five sen or 4.81% to 99 sen.
The Energy Index's heavyweight Dialog Group Bhd bucked the trend, closing up one sen or 0.3% at RM3.33. Floating production storage and offloading vessel operator Yinson Holdings Bhd climbed eight sen or 1.62% to RM5.01.
Fundamentally, oil is inching towards a "generally tight" market due to supply risks in the Middle East and lower production data from Russia, Venezuela and Opec. However, it seems the market is mainly focused on economic sentiments, said Refinitiv research director Yaw Yan Chong.
"I think that looking at trade war-related headlines should be watched closely," Yaw told The Edge Financial Daily. "But I urge caution — the markets could be oversold, in view of bullish fundamentals, especially with the unstable US-Saudi/Iran relations."
Last week's oil price decline stemmed from global economic concerns. Last Wednesday, China's state media floated the idea that the country curbs exports of rare earth minerals to the US in response to a tariff hike from 10% to 25% on Chinese goods.
The situation was further intensified by more US trade rhetoric — warning of a tariff on oil producer Mexico due to surging immigration incidents from the country.
In May, the US clearly stated it will sanction any country buying Iranian crude oil after its sanction waivers for the Middle East producer were unexpectedly removed on May 2.
While the two countries may soon meet at a negotiating table, a recent Reuters survey found Iran's production retreated an average of 400,000 barrels per day (bpd) in May. This resulted in Opec's oil production declining 60,000 bpd from April, despite Saudi Arabia's increase of 200,000 bpd.