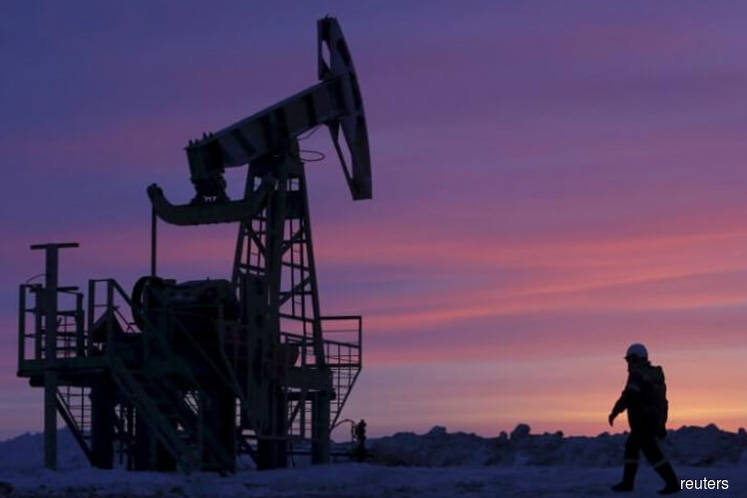 KUALA LUMPUR (June 6): Malaysian oil and gas (O&G) counters are among the top actives today on better market sentiment while oil price also recovered from its 1-month low of US$73.93 per barrel on June 5.
The oil price rose by about 2.7% from its 1-month low to US$75.94 per barrel as the market shrugged off reports that the US asked the Organisation of the Petroleum Exporting Countries (OPEC) to raise supply to about 1 million barrels per day (bpd).
In line with the recovery seen in the oil price and the improved sentiment in the overall equity market, the shares of O&G players were mostly higher during the first half of the trading day.
Sapura Energy Bhd, which was the most active counter, gained by about 7.8% or 4.5 sen to 62.5 sen with 245 million shares traded.
TH Heavy Engineering Bhd also rose by 18.2% or 1 sen to 6.5 sen with about 42.6 million shares changing hands. Velesto Energy Bhd gained 1.79% or 0.5 sen to 28.5 sen with 25.6 million shares traded.
Hibiscus Petroleum Bhd also saw its share price edged higher by 0.54% or 0.5 sen to 92.5 sen with about 17.5 million shares being traded.
Barakah Offshore Petroleum Bhd's share price, however, fell by 3.7% or 0.5 sen to 13 sen with 17.5 million shares traded.
The shares of bigger cap player Dialog Group Bhd were also higher by 1.5% or 5 sen to RM3.35 with about 7.6 million shares traded. However, MISC Bhd was lower by 1.45% or 9 sen to RM6.11 with about 419,300 shares changing hands.