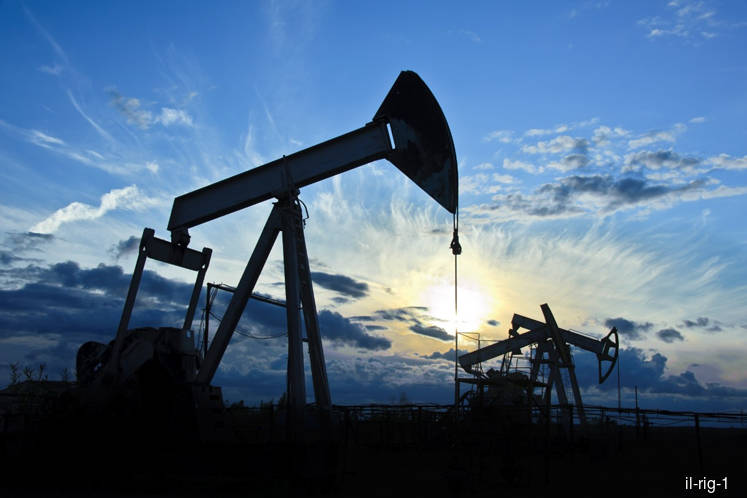 KUALA LUMPUR (Jan 10): Oil & gas (O&G) players continued their positive momentum this morning, buoyed by optimism and positive sentiment after crude oil price hit a 3-year high of US$69.23.
As at time of writing, UMW Oil & Gas Corporation Bhd led the most active counters with more than 132.5 million shares traded, as its share price gained by 4.7% or 2 sen to 44.5 sen. Sapura Energy Bhd was also among the active counters as its share price rose by 1.6% or 1.5 sen to 95 sen, with 66.0 million shares exchanging hands.
Hibiscus Petroleum Bhd gained 2.83% or 3 sen to RM1.09 with about 59.9 million shares traded, while Dagang NexChange Bhd made its upward movement by 2.8% or 1.5 sen to 55.5 sen with 17.0 million shares exchanging hands.
O&G counters were also among top gainers as Petron Malaysia Refining & Marketing Bhd's share price jumped by 12 sen to RM13.40.
Other O&G-related counters such as Bumi Armada Bhd and KNM Group Bhd also gained by 1.2% and 1.8% to 88 sen and 28.5 sen, respectively.
According to Abel Goon, an analyst with TA Securities, the positive trend among O&G players was mainly driven by the positive sentiment, as crude oil price continues to march forward as it hit its 3-year high.
"It is the positive sentiment that is driving the share price so far. Most of the earnings for the oil & gas companies in Malaysia do not correlate directly with the oil price, as most Malaysian companies are involved in the services sector for the oil & gas industry," Goon said.
He reckoned the positive momentum could continue with oil price remaining at a strong level. Goon however, cautioned most of the O&G players' earnings will not see an immediate upswing, as they do not benefit directly from the rising oil price levels.
Goon had shared with The Edge Financial Daily at the end of last year on the potential wild card in the O&G industry. He had then selected UMW Oil & Gas as his top pick for 2018.