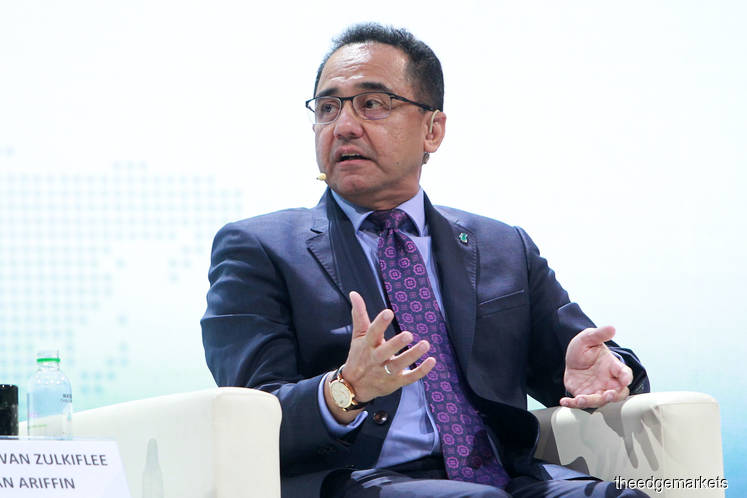 KUALA LUMPUR (June 24): Not enough investments are being made into big oil and gas (O&G) projects with long gestation periods during the industry downturn, says Petroliam Nasional Bhd (Petronas) president and group chief executive officer Tan Sri Wan Zulkiflee Wan Ariffin.
And the industry could see the impact from this in a few years, he said in a panel session during the Asia Oil and Gas Conference (AOGC) 2019 here today. 
"During times when oil prices are low, I don't think there's enough investments being made for both oil and gas, especially in projects which require long gestation periods," he said.
"And I think we will be seeing the impact in a few years. While the short-term demand can be fulfilled by unconventional short-cycle projects, I think as an industry, we kind of left [the investment value] in these mega projects low for good reasons," he added.
As the O&G industry moves towards recovery from the oil price crash of 2014, Petronas, on its part, made the conscious decision of investing in two mega projects — the US$16 billion Refinery and Petrochemical Integrated Development (Rapid) petrochemical plant in Johor, and a liquefied natural gas (LNG) project in Canada, in which Petronas holds a 25% stake. 
Rapid, with its 300,000 barrels-per-day refining capacity, is expected to begin its commercial operation in the fourth quarter of this year. 
"We sanctioned the project when oil prices were really, really low back in 2014. There were some advantages (from doing so). We had got good, competitive pricing from the service contractors, and it helped the project," said Wan Zulkiflee.
"We take a very bullish view [on] the demand towards petrochemicals. There would be times of volatility, but I think the prices trends [will] go up," he added. 
Similarly, Petronas reached a final investment dicision on the C$40 billion LNG Canada project alongside partners Shell, which holds a 40% stake, PetroChina (15%), Mitsubishi (15%) and Korea Gas (5%) in October last year when low gas prices halted more investments from the industry at large. 
On the renewable energy (RE) space, the national O&G major is maintaining "a measured approach" and "should not be ahead of the curve", said Wan Zulkiflee. 
"This is for the very good reason [where] the returns on renewables is not as great as the returns in conventional O&G. Essentially, it is a sweet spot that we have to determine how our investments should be so we will not be financially compromised but at the same time have the competency to play in the new energy space when the time comes.
"Honestly, time will tell whether we have taken the right decision [in terms of our investments in hydrocarbon and RE]," he noted.