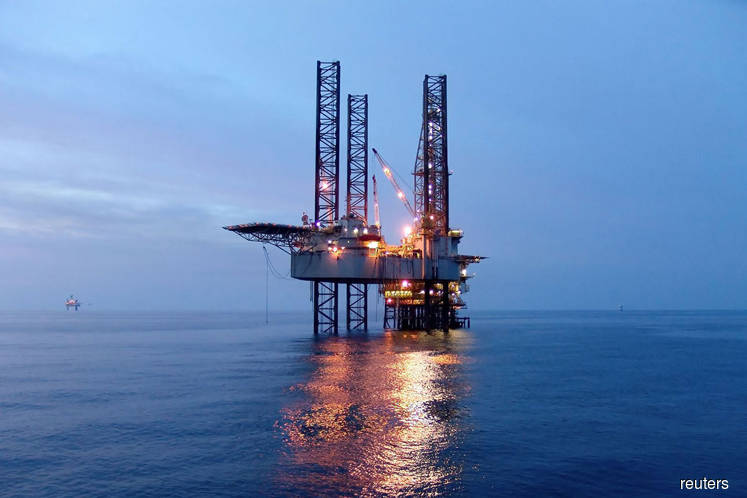 KUALA LUMPUR (Feb 19): Oil and gas-related stocks staged a rally at Bursa Malaysia in the morning session today, amid a rise in crude oil prices, including Brent crude that hit a two-week high.
Brent futures rose 55 cents or 0.85% to US$65.39 per barrel, while West Texas Intermediate (WTI) grew 78 cents or 0.78% to US$62.46 per barrel.
At 12.30pm, Dialog Group Bhd remained unchanged at RM2.72, after hitting a record intra-day high of RM2.74 with 3.25 million done for a market capitalisation of RM15.33 billion.
Sapura Energy Bhd went up three sen or 4.38% to 71.5 sen, with 58.83 million shares done for a market capitalisation of RM4.25 billion.
Petron Malaysia Refining & Marketing Bhd grew 74 sen or 6.74% to RM11.72 with 242,100 shares traded, valuing the company at RM3.16 billion.
Hengyuan Refining Co Bhd rose RM1.14 or 8.74% to RM14.18, with 2.97 million shares transacted for a market capitalisation of RM13.12 billion.
Hibiscus Petroleum Bhd climbed 7.5 sen or 7.94% to RM1.02, with 44.77 million shares transacted for a market capitalisation of RM1.62 billion.
UMW Oil and Gas Corp Bhd rose 1.5 sen or 4.69% to 33.5 sen, with 20.35 million shares traded, valuing the company at RM2.71 billion.
Perisai Petroleum Teknologi Bhd grew one sen or 22.22% to 5.5 sen, with 13.87 million shares done for a market capitalisation of RM63.04 million.
Perdana Petroleum Bhd was up 2.5 sen or 7.94% to 34 sen with 11.29 million shares transacted for a market capitalisation of RM260.78 million.
According to Reuters, oil prices extended gains to hit their highest level in nearly two weeks on Monday, buoyed as Asian shares joined a global recovery in equity markets and by worries over tensions in the Middle East.
Reuters wrote Prime Minister Benjamin Netanyahu had said on Sunday that Israel could act against Iran itself, not just its allies in the Middle East, after border incidents in Syria brought the Middle East foes closer to direct confrontation.
The article also quoted a weekly report from General Electric's Baker Hughes unit which said the U.S. oil rig count, an indicator of future production, rose by seven to 798, its highest since April 2015.
"That marked the first time since June that drillers added rigs for four consecutive weeks, and the figure was well up on the 597 rigs that were active a year earlier as energy companies have boosted spending since mid-2016, when crude prices began recovering from a two-year crash," Reuters reported.
It added surging US production is offsetting efforts by the Organization of the Petroleum Exporting Countries (OPEC) and some other producers, including Russia, to curb production by 1.8 million barrels per day (bpd) until the end of 2018.
Foreign currency trader Oanda Corp Asia Pacific trading head Stephen Innes said oil prices finished modestly higher on Friday to chalk up a weekly gain, as prices continue to see-saw between the binary descriptions from OPEC's ongoing efforts to blow out the worldwide glut against the indications of rising U.S. production.
"(This is although) Friday's price movements were likely position sensitive, amid US dollar risk reduction and book squaring, ahead of tomorrow's oil contract expiration. 
We should expect the WTI whipsaw to continue as debate rages between US shale and OPEC, but we're starting to carve out near-term ranges, as longer-term oil bulls remain in dip buying mode, with shale oil hedger looking to sell upticks," he said.