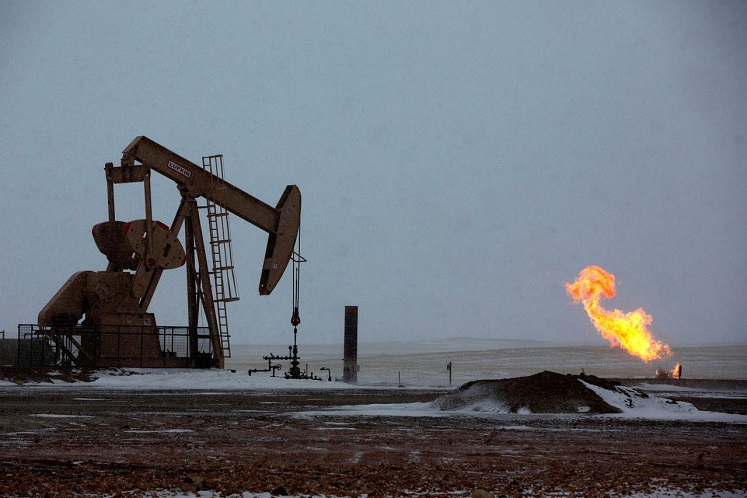 KUALA LUMPUR (April 9): Shares of oil and gas (O&G) counters have risen in active trade today on the back of expectations that the world's largest oil producers would agree to cut production at a meeting later in the day.
At 10.37am, Hibiscus Petroleum Bhd was up three sen or 5.94% at 53.5 sen, with some 51.21 million shares traded, making it the third most active counter on Bursa Malaysia now.
Sapura Energy Bhd shares were half a sen or 4.76% higher at 11 sen. Some 32.79 million shares were traded.
Other energy-related counters that rallied and saw more than 20 million shares traded now were Bumi Armada Bhd (5.71%), Velesto Energy Bhd (3.03%), KNM Group Bhd (6.25%) and Alam Maritim Resources Bhd (6.67%).
All indices on Bursa Malaysia were in the positive territory, but the clear winner was Bursa Malaysia Energy Index, which was up 26.08 points or 3.62% at 745.79 points.
As of writing, Brent crude futures rose some 2.68% to US$33.72 per barrel. Oil prices fell to as low as US$22.74 per barrel last month, some 66% plunge from US$66 per barrel at the beginning of this year, after the failure of talks in early last month between the Organization of the Petroleum Exporting Countries (OPEC) and other leading oil producers including Russia.
Reuters reported that OPEC and allies including Russia — a group known as OPEC+ — are set to convene a video conference meeting on Thursday, adding that the meeting is expected to be more successful than their gathering in March, where they failed to agree to extend supply cuts and triggered a price war between Saudi Arabia and Russia.
Hopes of an agreement to cut between 10 million and 15 million barrels per day (bpd) rose after media reports suggested Russia was ready to reduce its output by 1.6 million bpd and Algeria's energy minister said he expected a "fruitful" meeting, the newswire added.
"Such a sizable reduction would be far bigger than any production cut OPEC has ever agreed on," said Reuters.
Read also: Crude futures climb ahead of OPEC+ meeting