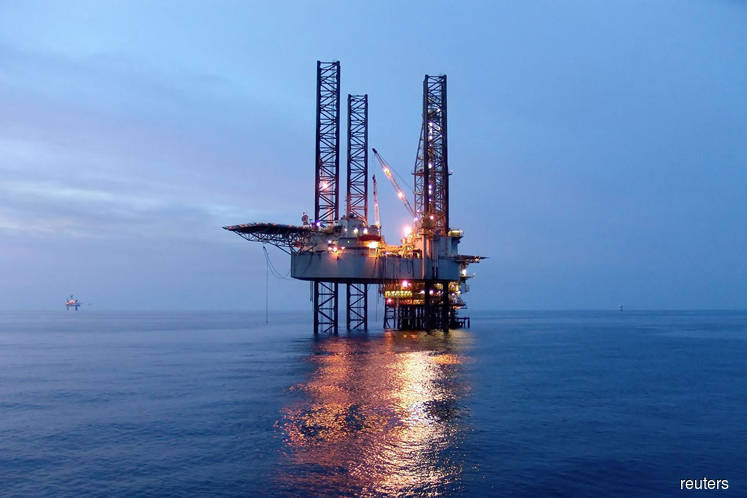 KUALA LUMPUR (July 25): Oil and gas (O&G) counters were actively traded on Bursa Malaysia today as oil price rose for the second consecutive day after data showed that US crude inventories fell by more than expected last week.
Sapura Energy Bhd was the most active stock with a volume of 285.9 million shares in afternoon trading. The counter rose 4.5 sen or 7.7% to 63 sen.
Sumatec Resources Bhd was the second most active counter with 83.4 million shares changing hands. Its share price increased one sen or 25% to 5 sen.
Velesto Energy Bhd, formerly known as UMW Oil & Gas Corp Bhd, was the next most active counter with 80 million shares traded. Its share price was higher by one sen or 3.45% to 30 sen.
Other O&G counters that are also actively traded include Hibiscus Petroleum Bhd, which rose 1.5 sen or 1.6% to 95 sen with 42.7 million shares changing hands.
Dagang NeXchange Bhd rose 0.5 sen or 1.2% to 41 sen with about 9.18 million shares traded.
Oil price has seen a sharp decline in recent weeks over concerns on a potential oversupply in the market. But with the latest data reported by the American Petroleum Institute (API), which shows that US crude and fuel stockpiles fell by more than expected last week, those concerns have eased.
As of writing, Brent crude oil was up by 0.98% at US$74.16 per barrel while the US West Texas Intermediate rose 0.47% to US$68.84. Reuters said reports that China will increase infrastructure spending also helped to reduce the concerns that US-China trade tensions will dent the country's demand for oil.