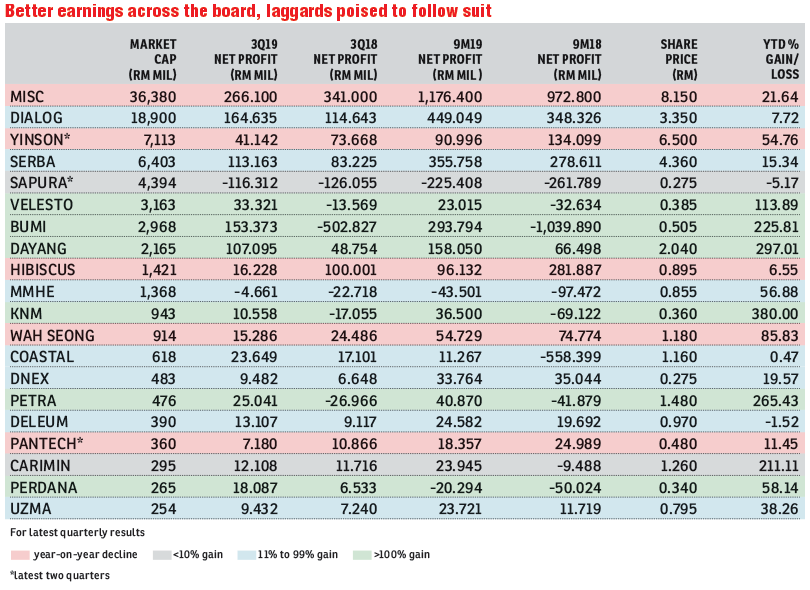 This article first appeared in The Edge Financial Daily as 'Worst seen over for O&G sector', on December 2, 2019.
KUALA LUMPUR: Following the oil price crash of 2014, there has been little excitement among oil and gas (O&G) companies listed on Bursa Malaysia, until this year, as anticipation climbs from expected oil majors' swing back to spending mode, and the trickle-down effects that it will bring.
A brief look at the financial performance of listed O&G outfits at end-September seems to indicate that the much-talked about cost optimisation and internal reorganisation since the 2014 shock fall in prices have borne fruit.
Of the 20 largest O&G companies tracked by The Edge Financial Daily, 75% have shown stronger bottom line in their latest financial quarter and for the cumulative quarters to-date (see table).
The improvement came despite subdued oil prices, and went beyond last year's kitchen-sinking exercises among some players that could have boosted the books from a low base, as core earnings also grew in tandem.
"It is a combination of coming from a low base, an increase in job execution, and stronger balance sheet for some," Maybank Kim Eng analyst Liaw Thong Jung told The Edge Financial Daily.
"You can say it is a perfect mix [for a better bottom line]," said Liaw, who has maintained his "overweight" stance on the sector despite the recent rally.
Rated companies that have translated recovery into earnings includes rig operator Velesto Energy Bhd and Dayang Enterprise Holdings Bhd, which are involved in the topside major maintenance (TMM) and hook-up and commissioning (HUC) services, as well as oilfield services outfit Uzma Bhd and Deleum Bhd.
Laggards includes exploration and production (E&P) outfit Hibiscus Petroleum Bhd, piping expert Pantech Group Holdings Bhd, and floating production storage offloading (FPSO) vessel operator, Yinson Holdings Bhd — who are still on "buy" among analysts covering them because of their respective prospects.
Among non-rated firms, investors could keep a close watch on HUC/TMM companies Petra Energy Bhd and Carimin Petroleum Bhd.
On average, companies across different subsegments have improved their earnings, save for E&P companies that are directly affected by oil prices.
Looking at the lucrative order book secured by leaders in the field, this year's results could be the start of better times for the next two years.
'Risk-reward influences valuation'
But valuations are still fragmented. While many companies have their own unique growth story, they are still unable to fetch higher consensus valuation as opposed to those with stronger track records, such as engineering services company Serba Dinamik Holdings Bhd and storage tank operator Dialog Group Bhd.
"For the likes of Serba Dinamik, some are willing to chase PE (price-earnings) valuations even at high double digits for quality stocks with a growth angle," explained TA Research analyst Kylie Chan to The Edge Financial Daily.
Meanwhile, Dialog's sum-of-parts valuation of above RM4 per share suggests more room to grow despite its healthy share price performance this year. "There is still a lot of upside — its capacity at Pengerang Integrated Complex is only producing a quarter of its full potential," commented Maybank Kim Eng's Liaw.
Similarly, there is still upside for Yinson (average target price [TP]: RM8.42) when prospects of securing another FPSO project is factored in, Liaw said — as with pipe-coating firm Wah Seong Corp Bhd, which he viewed as a high potential beneficiary of Yinson's project wins.
From the first quarter of 2020, Yinson will have room to take on two more projects, on top of the massive US$5.4 billion (RM22.57 billion) Marlim FPSO project win in Brazil from Petrobras that is scheduled for delivery by 2023.
Of the four FPSO projects Yinson is bidding for, two stand out: A joint venture with MISC Bhd at the Petronas Carigali Limbayong field under Petroliam Nasional Bhd (Petronas), and the Whale Park field offshore Brazil under Petrobras where it is reportedly the sole remaining bidder. Yinson will find out if they managed to secure the projects by the first half of 2020. 
In contrast, the sentiment is different for MISC, which is also bidding for huge FPSO projects, such as the US$2 billion bid for Mero 3 FPSO at Brazil's Libra field.
"MISC is aggressive in bidding, but its track record revolves more around smaller FPSOs," said TA Research's Chan. At a consensus TP of RM8.81 — the stock last settled at RM8.15 last Friday — it appears the preference is to wait until the bids are crystallised before factoring them in.
The consensus' view is also mixed for engineering and construction outfit Malaysia Marine and Heavy Engineering Bhd (average TP: 92 sen) despite its RM2.2 billion Kasawari gas project. The same is true for E&C company Sapura Energy Bhd (average TP: 35 sen), which has an order book of over RM5 billion for next year alone.
The fact that both are long-term contractors for Saudi Aramco also did not improve sentiment, considering both staged slower-than-expected earnings improvement this year. TA Research's Chan put it simply: "It is a question of risk-reward."
Time for rotational play?
Pushing aside over geared companies, investors may consider laggards in the sector. Offshore support vessel (OSV) operators are in demand with new drilling activities. The long-delayed maintenance of existing offshore facilities provides more opportunities for TMM, HUC and other oilfield services firms — as the Petronas Activity Outlook has projected.
Carimin, for example, managed to declare dividends in the last financial year, and has put in its bid for integrated HUC contracts under Petronas recently.
Another example is Uzma, which is a market leader with a good track record in the booming segment of well plugging and abandonment — whose potential contract wins have not been factored into its share price.
Maybank Kim Eng's Liaw is also keeping an eye on OSV players such as Icon Offshore Bhd and Alam Maritim Resources Bhd, though he reminded that both are having to recapitalise their balance sheets. Icon recently got shareholders' nod to consolidate its shares and to make a cash call involving the issuance of 175 rights shares for every consolidated share held, which works out to a seven-for-two issuance at six sen apiece (pre-share consolidation) or RM3 for every consolidated rights share.
For E&P firm Hibiscus (average TP: RM1.38), its asset maintenance in Anasuria and North Sabah fields have been accounted for and investors can expect more effective operations ahead. "We see the group posting stable earnings, given its ongoing initiatives to constantly increase and/or maintain [oil] production," said PublicInvest Research in its latest note on the counter.
Separately, Dagang NeXchange Bhd, which also has a stake in the Anasuria cluster, is planning to sell its stake in E&P unit Ping Petroleum Ltd for above RM200 million by next year, with plans to disburse some of the proceeds as dividends. In the meantime, the operation is still bringing income to the company.
Meanwhile, steel pipes and related fitting parts supplier Pantech (average TP: 63 sen) is expected to have stronger earnings on the lifting of an anti-dumping tax on its product, carbon steel butt weld pipe fittings, exported to the US.
Pantech is also well-positioned to benefit from being the only locally-owned pipe supplier under the Petronas Framework Agreement, according to Kenanga Research in a recent report.
"While the upside for oil prices — the sector's determining factor — is subdued, it is resilient enough [to support the sector]," said TA Research's Chan. "There is a lot of buying interest in the sector right now."