This article first appeared in The Edge Malaysia Weekly, on August 20, 2018 - August 26, 2018.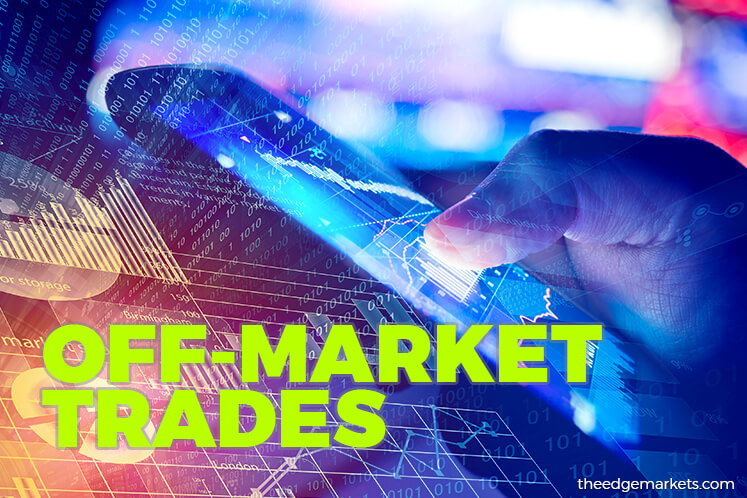 YNH Property Bhd saw a total of 29 million shares or a 5.55% stake traded off market through direct deals at RM1.19 apiece for a total value of RM34.7 million.
According to YNH's filings with Bursa Malaysia, its largest shareholder, Datuk Dr Yu Kuan Chon, disposed of 20.39 million shares or a 3.88% stake at RM1.19 apiece on Aug 14. The deal was at an 11.9% discount to the closing price of RM1.35 that day.
Yu also sold 3.39 million shares or a 0.64% stake on the same day at RM1.34 per share. No announcement was made by YNH regarding the remaining 8.75 million shares that were traded off market at RM1.19 apiece.
The disposals reduced Yu's stake to 28.36%. He held 31.33% as at March 30, 2018.
At Handal Resources Bhd, a manufacturer and fabricator of offshore cranes, substantial shareholder Zahari Hamzah disposed of six million shares or a 3.76% stake on Aug 9 at 44 sen apiece to Borneo Seaoffshore Sdn Bhd.
Pursuant to the disposal, Zahari resigned as chief operating officer on Aug 10. His stake in the engineering outfit stood at 5.92% after the disposal while Borneo Seaoffshore's increased to 11.12%.
Borneo Seaoffshore is owned by Seaoffshore Capital Sdn Bhd, which is owned by Tengku Munawwir Islahuddin Tengku Noone Aziz,
Mohamad Ismail and Sunildeep Singh Daliwal. The company emerged as a substantial shareholder of Handal on June 28.
Vertice Bhd's largest shareholder Datuk Zarul Ahmad Mohd Zulkifli continues to pare down his stake in the construction outfit. On Aug 10, he disposed of a total 1.98 million shares or a 1.14% stake to executive directors Ibrahim Sahari and Wong Kwai Wah.
Ibrahim Sahari acquired 981,588 units at 93 sen apiece, increasing his stake to 5.54% and making him a substantial shareholder once again. His stake was diluted in July following the placement of 61.56 million Vertice new shares.
The deals reduced Zarul's stake in Vertice to 11.05%. In early January, he held a 25.85% stake.
The deals were transacted at a discount of 5.1% to Vertice's closing share price of 98 sen on Aug 10. The group is teaming up with Vizione Holdings Bhd to establish a 50:50 joint venture as part of its bid to strengthen its core competencies in the construction industry.
On Aug 14, Asia Media Group Bhd saw 5.56 million shares or a 2.32% stake change hands through direct deals at 18 sen per share. The price was at a 71.4% premium to the closing price of 10.5 sen that day. The group recorded a net loss of RM1.15 million for the first half of the financial year ending Dec 31, 2018.
Asia Media has yet to make any announcements on the transactions.
Renewable energy and environmental engineering solutions provider Cypark Resources Bhd saw five million shares change hands through direct deals on Aug 13 at RM2.33 apiece. No updates were given by Cypark on Bursa Malaysia's website.
Cypark completed the private placement of 28.74 million shares or 10% of the group's share base on July 30. It recorded an increase of 35% in net profit for the first half of the financial year ending Oct 31, 2018, to RM31 million.
Save by subscribing to us for your print and/or digital copy.
P/S: The Edge is also available on Apple's AppStore and Androids' Google Play.