This article first appeared in Capital, The Edge Malaysia Weekly, on November 4, 2019 - November 10, 2019.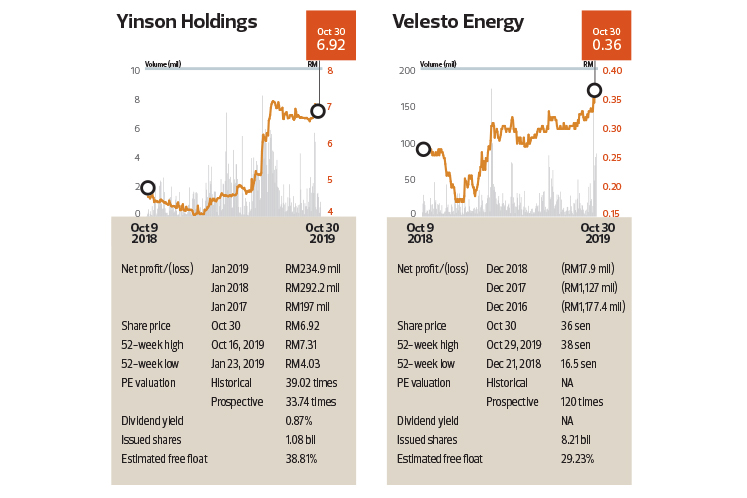 YINSON Holdings Bhd saw 69.96 million shares or a 6.4% stake transacted off market through direct deals at RM7 apiece on Oct 25. However, there has been no transaction announcement to Bursa Malaysia to date.
In total, RM489.7 million worth of Yinson shares changed hands that day — the largest off-market transaction by value recorded during the week under review.
In recent months, Yinson founder and executive chairman Lim Han Weng and his wife Bah Kim Lian have transferred their shares in the group to their privately held Yinson Legacy Sdn Bhd, which has a 9.86% stake in the offshore production and support vessel services provider.
On Oct 11, Yinson announced that its subsidiary, Yinson Production Pte Ltd, was awarded two letters of intent by Petroleo Brasileiro SA (Petrobras) for the provision of a floating production, storage and offloading (FPSO) facility to the Marlim field, located off the shores of Brazil, and operation and maintenance services during the charter phase of the FPSO.
The estimated aggregate value of the contracts is US$5.4 billion (RM22.5 billion), according to Yinson. The FPSO, Marlim 2, is expected to commence operation by the first quarter of 2023 and will be chartered by Petrobras for 9,125 days or 25 years.
Over at oil and gas drilling services provider Velesto Energy Bhd, Permodalan Nasional Bhd (PNB) disposed of 100 million shares or a 1.22% stake through a direct off-market deal at 34.5 sen apiece on Oct 23, according to stock market data.
The shares were acquired by Amanahraya Trustees Bhd-Amanah Saham Bumiputra, which increased its holding in Velesto to 37.93%. After the disposal, PNB's stake in Velesto was reduced to 11.1%, valued at RM329.24 million as at last Wednesday.
The following day, the Employees Provident Fund disposed of three million Velesto shares, reducing its stake to 6.97% worth RM206 million. The EPF is Velesto's third largest shareholder.
Mudajaya Group Bhd also saw a large block of its shares transacted off market through direct deals at 38.7 sen apiece during the week under review. On Oct 29, the construction outfit saw 162.33 million shares or a 26.8% stake worth RM62.82 million change hands. The group has yet to inform Bursa of the transaction.
On Oct 4, Mudajaya announced that its deputy CEO, Lee Eng Leong, will be primarily responsible for the management of the group's financial affairs pursuant to the resignation of chief financial officer Kang Boon Beng on the same day.
The loss-making firm expects to turn the corner as early as the third quarter of the year as it anticipates the restructuring of its Indian power plant business to be completed by then. In 2QFY2019, Mudajaya's net loss narrowed to RM30.8 million compared with RM76.5 million a year ago.
At Bertam Alliance Bhd, 8.3 million shares or a 4% stake change hands at 20 sen apiece on Oct 23. The Sabah-based property developer has yet to inform Bursa of the change.
On Sept 23, the group entered into a memorandum of understanding with Chinese national Liu Sheng Hui to negotiate his participation in Bertam's regularisation proposal involving a private placement.
Liu is involved in the manufacture of pulp, paper and paperboard, production of aluminium from alumina as well as technology promotion and application software services, according to Bertam. He is also an independent, non-executive director of NWP Holdings Bhd.