This article first appeared in Capital, The Edge Malaysia Weekly, on December 9, 2019 - December 15, 2019.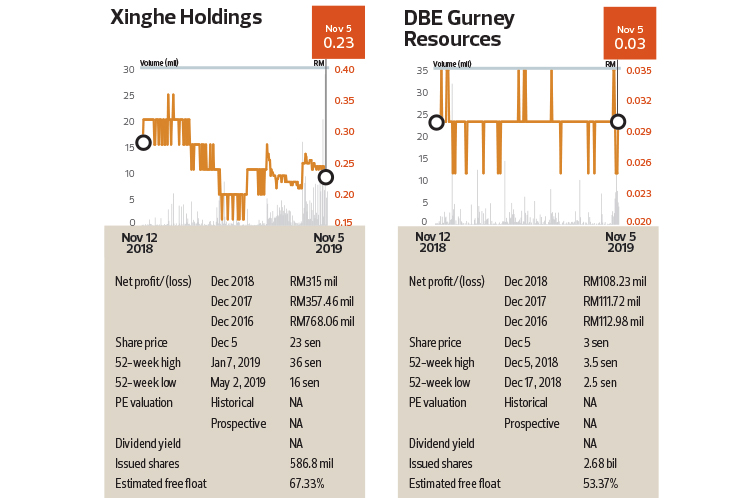 DURING the period under review, China-based edible oil manufacturer Xinghe Holdings Bhd saw the largest amount of shares change hands in percentage terms, namely 5.5%, or 32.17 million shares. They were transacted at 23 sen to 25 sen each in block trades.
At this juncture, the parties involved in the transaction are not known.
XingHe is in the process of issuing redeemable convertible notes (RCNs) to raise up to RM120 million for its diversification into the aquaculture business through the acquisition of a prawn farm in Tawau, Sabah, for RM100 million.
It is worth noting that Advanced Opportunities Fund, controlled by Tan Choon Wee, has agreed in principle to subscribe for the RCNs issued by the company.
Over at DBE Gurney Resources Bhd, 134.31 million shares, or a 5% stake, moved off market at two sen apiece in direct trades on Dec 2 and 3, and at three sen each in block trades on Nov 27, Nov 28 and Dec 2.
In early October, the company announced that managing director Datuk Ding Seng Huat will purchase a 51% controlling stake in six wholly-owned subsidiaries of DBE for a combined RM32.58 million in cash.
These business units are DBE Poultry Sdn Bhd, DBE Breeding Sdn Bhd, DBE Hatchery Sdn Bhd, DBE Marketing Sdn Bhd, DBE Food Processing Industries Sdn Bhd and DBE Gurney Chicken Sdn Bhd — essentially, the group's poultry businesses.
DBE's largest shareholder is Doh Properties Holdings Sdn Bhd with a 35.07% stake.
Tiger Synergy Bhd saw a 3.9% stake or 51.25 million shares cross off market in direct and block trades at seven sen to nine sen apiece. At this juncture, the parties involved in the transaction have not been disclosed.
In August, the company announced that a memorandum of understanding (MoU) it entered into to undertake a residential development in Rantau, Negeri Sembilan, had been aborted. First announced in January, the MoU was between Tiger Synergy, as project developer, and a partner that injected land as consideration.
For the quarter ended Sept 30, Tiger Synergy reported a net loss of RM701,000 on revenue of RM2.06 million.
Marine & General Bhd (M&G) saw a 2.8% stake or 20.31 million shares change hands in a direct trade on Nov 27.
Filings with Bursa Malaysia show that executive vice-chairman Abdul Rahman Ali had disposed of 20.31 million shares in the company on the said date. Post-disposal, he is left with a 26.63% stake.
The debt-laden company recently proposed a debt-to-equity scheme that entails the issuance of 1.5 billion new shares to restructure RM200 million out of the total of RM923.2 million owed by its subsidiaries.
Under the proposed debt restructuring scheme, its 70%-owned subsidiary, Jasa Merin (M) Sdn Bhd, will be issuing 150 million irredeemable preference shares (IPS) of RM1 each to three banks. The IPS are convertible into new shares in M&G.
Hard disk maker Notion VTec Bhd saw 9.33 million shares or a 2.8% stake change hands off market during the period under review. Filings with Bursa show that Nikon Corp ceased to be a shareholder of the company after it disposed of 9.33 million shares at 75 sen apiece on Dec 2.
Filings also reveal that Notion VTec executive chairman Thoo Chow Fah, managing director Choo Wing Hong and executive directors Lee Thian Yoke and Choo Wing Onn had acquired seven million of the 9.33 million shares sold by Nikon Corp.
For the fourth quarter ended Sept 30, Notion VTech's net profit more than halved to RM12.09 million from RM36.47 million a year ago. This came as revenue fell to RM64.98 million from RM70.14 million previously.