This article first appeared in Capital, The Edge Malaysia Weekly, on October 21, 2019 - October 27, 2019.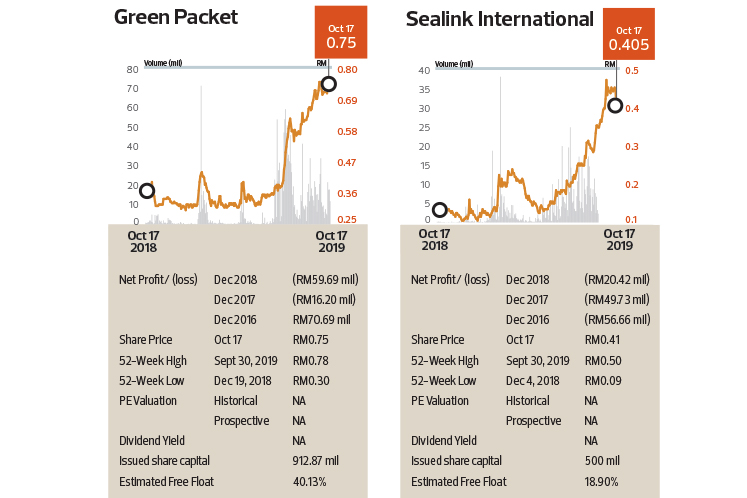 BETWEEN Oct 9 and 15, notable off-market trades included the sale of 150 million shares in Sealink International Bhd, an integrated service provider that builds, owns and operates offshore marine support vessels, serving mainly the global offshore oil and gas exploration and production industry.
The block of shares — equivalent to a 30% stake — changed hands at 36.5 sen each or a total of RM54.75 million on Oct 10. The transacted price was 18.89% below Sealink's closing price of 45 sen that day.
According to an exchange filing by the Miri-based group, businessman Pengeran Datuk Awang Daud Pengeran Awang Putera, who is also deputy group managing director of Serba Dinamik Bhd, is the new owner of the 150 million shares.
The seller of the block is the company's largest shareholder, Sealink Holdings Sdn Bhd, which is left with a 21.82% shareholding after the direct deal.  Sealink Holdings is the vehicle of the group's founder Yong Foh Choi and his son Yong Kiam Sam, who is CEO-cum-managing director.
Meanwhile, on Oct 9 and 10, Serba Dinamik saw 13.5 million shares, representing 0.92% equity interest in the engineering solutions provider, traded off market in two transactions at RM4.24 and RM4.25 apiece, for a total value of RM56.36 million.
Another off-market deal worth highlighting took place at telecommunications, media and technology group Green Packet Bhd on Oct 9, 11 and 15. A total of 34.2 million shares or a 3.7% stake changed hands in five tranches at 71 sen to 73 sen a share, for a total value of RM24.5 million.
The largest block comprised 30 million shares and was transacted on Oct 11 at 71.5 sen, which was Green Packet's closing price on the same day.
Details of the parties involved in the transaction were not known at the time of writing although it is worth noting that in September, Green Packet announced the emergence of Singapore-based private equity firm Kendall Court as a substantial shareholder through its wholly owned unit Summit Synergy Ltd, which acquired 65 million shares or a 7.19% stake.
The direct business transaction on Sept 27 was done at 70 sen a share or a total of RM45.5 million.
Then on Oct 3, 4 and 7, about 10.37 million Green Packet shares representing 1.14% of the company, were sold off market at 73 sen apiece or RM7.56 million in total.
Mobile solutions provider MNC Wireless Bhd saw 38.3 million shares or a 3.83% interest traded off market in three tranches on Oct 10, 11 and 14, for a total of RM581,000.
Filings show Bursa-listed Metronic Global Bhd acquiring 30 million shares at one sen apiece on Oct 10, bringing its direct interest in the group to 11.216%.  The transacted price was at a 67% discount to MNC Wireless' closing price of three sen that day.
Last month, MNC Wireless announced its venture into film making with New Zealand-based production house Monfils Pictures Ltd.
Meanwhile, Revenue Group Bhd, which provides payment services, saw 4.84 million shares, or a 2.07% stake, traded off market at RM1.55 each or RM7.5 million on Oct 14.
The transacted price was 4.32% lower than Revenue Group's closing price of RM1.62 on the same day.
According to filings to the exchange, Ng Shih Fang disposed of five million shares in Revenue Group on Oct 14 via an off-market transaction, leaving him with 37.93 million shares, equivalent to a 16.23% stake. Ng is the group's co-founder, executive director and chief technology officer.
Widad Group Bhd, which is involved in construction activities and integrated facilities management services, saw about 26 million shares or 1.06% change hands in two off-market transactions on Oct 9 and 10. The larger of the two deals comprised 24 million shares and was transacted at 3 sen apiece, for a total of RM7.2 million on Oct 9.
Filings show that its group executive chairman Tan Sri Muhammad Ikmal Opat Abdullah sold the 24 million shares, leaving him with total direct and indirect interest of 65.141% in Widad Group.
On Oct 10, the group revealed it had offered to buy out the concessionaires of PLUS Expressways Bhd by either taking over the 51% in the company owned by Khazanah Nasional Bhd for RM1.5 billion cash, or 100% of the concessionaires owned by Khazanah and Employees Provident Fund (EPF) for RM3 billion cash.