This article first appeared in Capital, The Edge Malaysia Weekly, on August 6, 2018 - August 12, 2018.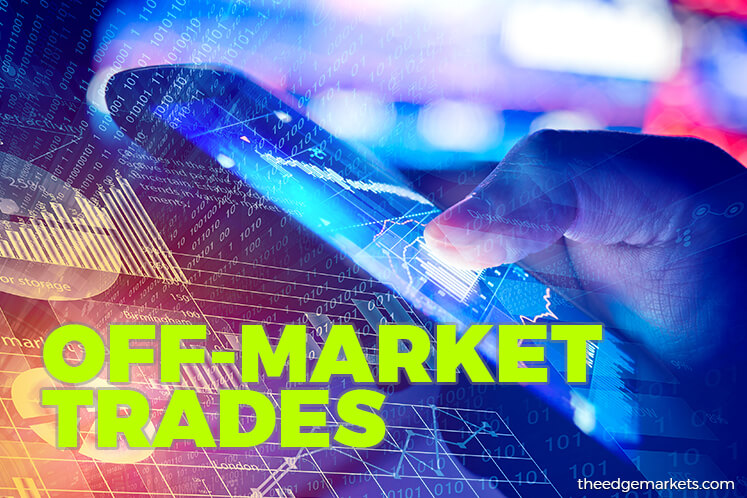 TILE manufacturer Seacera Group Bhd saw 12 million shares transacted in five separate off-market deals between the afternoon of July 25 and late morning the next day. The shares were done at 50 sen apiece, higher than the closing price of 46 sen on both days.
The 12 million shares represent about 3.2% of Seacera's outstanding share base. While information is scarce, filings with Bursa Malaysia indicate that at least 2.81 million of the transacted shares were sold by Duta Global Sdn Bhd.
Duta Global had surfaced in the company last year with a 26.81% stake after a cash-and-share deal on its land sale to Seacera Global. It recently started paring down its stake, selling 14.5 million on July 13.
About 16.73 million shares of glove-dipping manufacturer HLT Global Bhd changed hands off market on July 27. The transacted price was 20 sen apiece, which was at a 23% discount to the market price that day. The stock had last peaked at 42 sen in November last year.
It was a right hand-left hand transaction as Taiwanese national Lin Kuo-Tang was consolidating the directly held stake and the HLT Global shareholding of his vehicle Suntel International Co Ltd.
Suntel had emerged in HLT Global in May last year after receiving 53.78 million shares, at 29 sen each, as payment for a 55% stake in HL Rubber Industries Sdn Bhd that it had sold to HLT Global.
With 13.77% equity interest via Suntel, Lin is the third largest single shareholder in HLT Global after deputy chairman-cum-executive director Wong Kok Wah (35.15%) and executive director-cum-CEO Chan Yoke Chun (34.59%), according to HLT Global's latest annual report.
Over at Rohas Tecnic Bhd, 6.5 million shares changed hands in a single direct deal on July 27 at RM1.17 each, just below the RM1.20 the stock closed at that day.
According to filings with Bursa, Tan Sri Wan Azmi Wan Hamzah increased his direct holding in the company by acquiring 6.5 million shares from his wife, Puan Sri Nik Anida Nik Manshor for RM7.61 million. Following the sale, Wan Azmi has 63.31 million directly held shares or a 13.39% stake. Nik Anida still has 139.74 million shares or 29.57% equity interest.
Engineering outfit Serba Dinamik Holdings Bhd closed at a record high of RM3.89 on July 26. That same day, two million shares changed hands in a single off-market transaction for RM3.82 apiece or RM7.64 million in total. The purchaser was unknown at press time.
Separately, group CEO Datuk Dr Mohd Abdul Karim Abdullah added 500,000 shares the following day at RM3.94 each. The counter subsequently shot up, closing at a new high of RM3.96 last Friday.
Serba Dinamik was listed on Bursa in February last year at RM1.50 per share.
On July 31, a little over four million shares of engineering company Spring Gallery Bhd were transacted in three off-market deals for about RM2.82 million.
The shares represent a roughly 2% stake and were all bought at 70 sen each — at a 11.4% discount to the closing price of 79 sen that day. The counter had last peaked at RM1.12 in February.
At the time of writing, it was unclear who had sold the stake. Spring Gallery was sitting on wider losses for the nine months up to March 31.
Some 7.22 million shares or a 2.12% stake of diversified group, Lien Hoe Corp Bhd, were traded off market in a single transaction on July 25. The shares changed hands at 35 sen each — just a bit cheaper than the closing price of 36 sen that day. According to Lien Hoe's latest annual report, as at March 27, only seven shareholders held more than 2% equity interest each.
Save by subscribing to us for your print and/or digital copy.
P/S: The Edge is also available on Apple's AppStore and Androids' Google Play.