This article first appeared in Capital, The Edge Malaysia Weekly, on February 24, 2020 - March 01, 2020.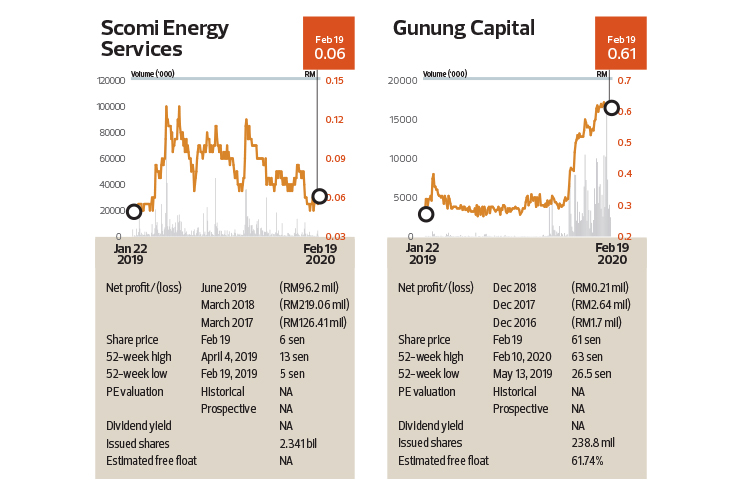 DURING the week under review, the most notable off-market trade involved a controversial change of ownership at oil and gas services provider Scomi Energy Services Bhd, which saw a total of 424.917 million shares, or an 18.15% stake, cross off market on Feb 14 and 18.
Bloomberg data indicates that the first block of 423.96 million shares was transacted at 5.2 sen apiece in a single direct deal on Feb 14 while the remaining 953,000 shares changed hands at 5.5 sen apiece via two block trades on Feb 18, for a total transaction value of RM22.09 million.
According to a Feb 17 filing with Bursa Malaysia, former Renong Bhd managing director Datuk Mohd Zakhir Siddiqy emerged as a substantial shareholder in Scomi Energy with an 18.1% stake on Feb 14.
This followed an off-market trade of 423.96 million Scomi Energy shares that day to Gelombang Global Sdn Bhd, a wholly-owned subsidiary of United Flagship Sdn Bhd, whose sole shareholder is Mohd Zakhir.
The shares were transferred to Mohd Zakhir pursuant to a loan agreement, dated July 17 last year, with Scomi Group Bhd.
According to reports, Scomi Group defaulted on a RM21 million loan, obtained from Mohd Zakhir, last month. The loan was securitised against an 18.6% stake in Scomi Energy, a unit of Scomi Group.
However, in a surprising turn of events, Scomi Energy said on Feb 18 that Gelombang Global does not own any of its shares as the latter had retracted its Section 137 Notices that were issued to the company. Consequently, Scomi Energy claimed that there was no change in substantial shareholding, and that Malaysian Trustees Bhd continues to hold the 423.96 million shares in trust for Scomi Group.
Loss-making Gunung Capital Bhd, which charters out passenger vehicles, saw 27.853 million shares, or an 11.66% stake, cross off market between Feb 12 and 18.
The block of shares was transacted at 50 sen to 60.5 sen apiece, or RM15.2 million in total.
Following the transaction, Gunung Capital managing director and CEO Datuk Syed Abu Hussin Hafiz Syed Abdul Fasal ceased to be a substantial shareholder, confirming a report by The Edge last month.
In its filing, Gunung Capital said Syed Abu Hussin sold 7.45 million shares, representing a 3.117% direct stake in the company, at 58.24 sen apiece in a combination of open and off-market disposals on Feb 12. The disposal price was at a discount to the company's closing price of 61 sen on the open market that day.
Over at Securemetric Bhd, the digital security specialist saw 27.37 million shares or a 5.62% stake cross off market in multiple block trades and direct deals between Feb 12 and 17.
These blocks of shares were traded at 14 sen to 18.5 sen apiece, for a total transaction value of RM4.35 million.
Neither the seller nor the buyer was disclosed at press time, as the company had not made any announcement on shareholding changes since Jan 20.
Lotus KFM Bhd (formerly known as Kuantan Flour Mills Bhd) saw 3.363 million shares or a 4.93% stake cross off market between Feb 12 and 17.
Bloomberg data shows that a block of two million shares was transacted at 13.5 sen apiece in a single direct deal on Feb 17.
A quick check on Bursa reveals that substantial shareholder Chia Weng Lock had mopped up 2.9 million shares on Feb 12, raising his stake in the company to 9.08%.