This article first appeared in Capital, The Edge Malaysia Weekly, on June 24, 2019 - June 30, 2019.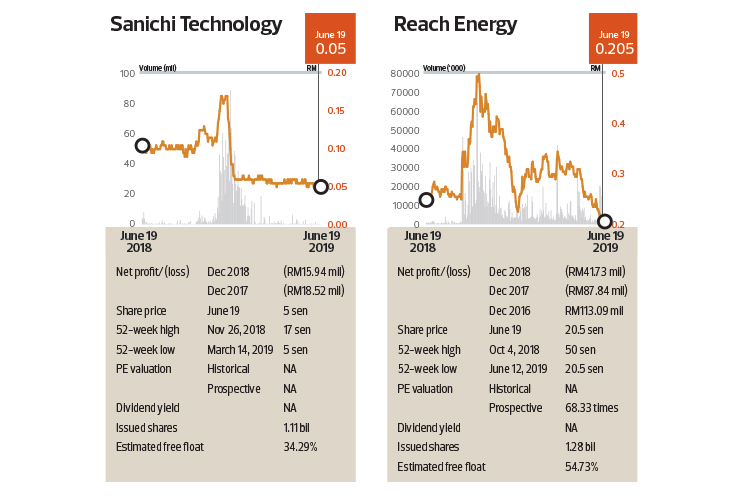 SANICHI Technology Bhd saw 120 million shares or a 10.8% stake change hands for RM3 million in total, or at 2.5 sen apiece, half the last traded price of five sen on the open market on June 12. The single direct deal was the only transaction for the stock that day.
The significant shareholding change had yet to be updated on stock exchange filings at the time of writing. Only Sanichi's largest shareholder, Cita Realiti Sdn Bhd, with a 32.1% stake or about 356 million shares as at March 29, has that many Sanichi shares, according to Sanichi's 2018 annual report.
Sanichi founder and managing director Datuk Seri Pang Chow Huat was the second largest shareholder with a 9.95% direct holding and 0.35% indirect holding, giving him about 114 million shares in total as at end-March.
Closing at five sen last Wednesday, Sanichi's share price had slipped one sen or 16.7% year to date and was off a recent high of 17 sen on Nov 26 last year. Sanichi, which has diversified into property development, still principally designs and fabricates precision moulds and tools. The company, which expects 2019 performance to be "challenging", saw its net loss widen to RM6.65 million in the first quarter ended March 31, on the back of slower revenue recognition and higher operating costs. In notes accompanying its unaudited results, Sanichi said the completion of the property development in Marina Point in Klebang, Melaka, would strengthen the group's financial position.
Reach Energy Bhd saw a 4.9% stake or 62.8 million shares change hands in two direct deals for RM13.5 million on June 12. The transacted price of 21.5 sen was just above the 20.5 sen apiece the shares fetched on the open market that day.
Reach Energy executive director and CEO Shahul Hamid Mohd Ismail is deemed interested in the shares sold by the company's former largest shareholder, Reach Energy Holdings Sdn Bhd.
Reach Energy Holdings had halved its holding after selling 127.8 million shares for RM31.78 million (average 24.87 sen apiece) the past three months, with its stake down to 11.66% following the June 12 disposal from 23.31% (255.6 million shares) as at end-March. It had sold 40 million shares for RM11.28 million (average 28.2 sen apiece) on April 23 and 25 million shares for RM7 million (28 sen each) on April 11, stock exchange filings and stock market data show.
MTD Capital Bhd, which was Reach Energy's second largest shareholder with a 13.61% stake as at end-March, is now the largest shareholder in the latter. Closing at 20.5 sen last Wednesday, Reach Energy's share price was down 30.5% or nine sen year to date and had more than halved compared with its year high of 50 sen on Oct 4 last year. Hong Leong Investment Bank Research had a "hold" recommendation and a target price of 25 sen on Reach Energy, according to BloombeaaMUI PropertiesTD the time of writing.
MUI Properties Bhd saw 39.46 million shares or a 5.3% stake change hands in five direct deals for RM10.26 million in total on June 14. The transacted price of 26 sen was at a premium to the 22.5 sen to 23.5 sen apiece the stock fetched on the open market that day. The parties involved in the deals were unknown at the time of writing.
Tan Sri Khoo Kay Peng — who in April passed the executive chairman's post he had held since 1979 to his son and former CEO Andrew Khoo Boo Yeow — controls 74.3% of the company through Malayan United Industries Bhd and other private vehicles.
Closing at 22 sen last Wednesday, MUI Properties' share price was down 0.5 sen or 2.2% year to date.