This article first appeared in Capital, The Edge Malaysia Weekly, on August 27, 2018 - September 02, 2018.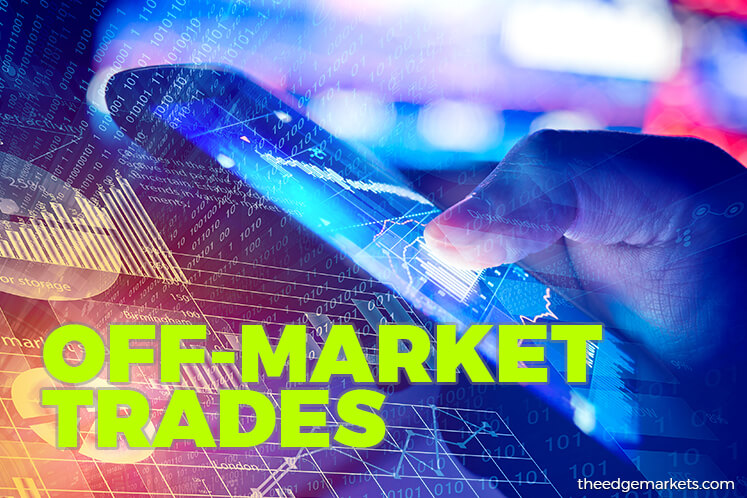 RHB Bank Bhd saw nearly 3% equity interest or 119 million shares change hands for RM603.2 million, RM5.07 apiece — below the RM5.10 to RM5.32 they fetched on the open market on Aug 15 — in 10 direct deals of at least 475,000 shares.
The seller was likely Abu Dhabi sovereign wealth fund Mubadala Investment Co's unit Aabar Investments PJS. Stock exchange filings show it still had a 14.75% stake after selling 120.3 million shares on Aug 20, and it is believed to be reviewing its investment in the bank that is 40.67%-owned by the Employees Provident Fund.
MRCB-Quill Real Estate Investment Trust (MQReit) — which invests in commercial real estate — saw 58 million units or a 5.41% stake change hands in four direct deals on Aug 17 and 20 for RM1.10 apiece, a shade below open market prices.
The largest block was 48 million units or 4.48% transacted on Aug 20, which filings show were sold by HLIB Nominees (Tempatan) Sdn Bhd for Quill Land Sdn Bhd, which is MQReit's fourth largest shareholder according to its 2017 annual report. The remaining units were sold by Quill Properties Sdn Bhd and Quill Estates Sdn Bhd on Aug 17. Non-executive directors and co-founding partners of the Quill Group, Datuk Jennifer Low Moi Ing and Datuk Michael Ong Leng Chun, were deemed to have an interest in the stake sold.
The disposals came ahead of the book closure date of Aug 24 for its 4.23 sen dividend per unit (DPU) for 1H2018, which is expected to be distributed on Sept 19, and translates into an annualised yield of 7.4% based on MQReit's closing price of RM1.15 on Aug 23.
MQReit, which counts Malaysian Resources Corp Bhd and CapitaCommercial Trust as its two largest shareholders, had 10 properties with a market value of RM2.18 billion as at June 30. The properties are in KL Sentral, Cyberjaya, Mont'Kiara and Penang. The EPF had 7.415% stake as at Aug 10.
Also on Aug 17, Diversified Gateway Solutions Bhd saw  110 million shares or a 7.38% stake change hands in a single direct deal off market for RM6.93 million, or 6.3 sen apiece, just below the open market price of 7 sen.
The buyer was Insas Bhd, via its unit Insas Technology Bhd, raising its indirect holding to 380 million shares or 25.48%. The shares were sold by Omesti Holdings Bhd, which retained 5.65% equity interest or 84.28 million shares following the disposal. Insas had a 10.7% stake in Omesti as at June 29.
Over at YNH Property Bhd, 21.27 million shares or 4.05% equity interest changed hands in three direct off-market deals at RM1.19 apiece on Aug 15, which was 11.9% below its RM1.35 close that day.
The seller of one of the tranches was group chairman Datuk Dr Yu Kuan Chon, who stock exchange filings show sold 9.256 million shares at RM1.19 each on Aug 15, a discount to open-market prices. That pared his direct holding down to 20.01% while he is deemed to have an interest in a 6.59% stake. Yu had earlier sold 23.77 million shares on Aug 14, the day 29.15 million shares changed hands in three direct deals at RM1.19 apiece.
Subsequent filings show Yu selling 1.4029 million shares on Aug 16 before becoming a buyer, acquiring a total of 15.96 million shares between Aug 17 and 23. His shareholding stood at 29.37% as at Aug 23 (22.78% direct and 6.59% deemed) — a shade below the 31.33% he held as at March 30 (of which 25.75% was held directly), as reflected in the company's 2017 annual report. YNH Property dropped 16 sen per share, or 11.94%, to RM1.18 on Aug 21 but regained 16 sen to close at RM1.34 apiece last Thursday.
Save by subscribing to us for your print and/or digital copy.
P/S: The Edge is also available on Apple's AppStore and Androids' Google Play.