This article first appeared in Capital, The Edge Malaysia Weekly, on April 2, 2018 - April 08, 2018.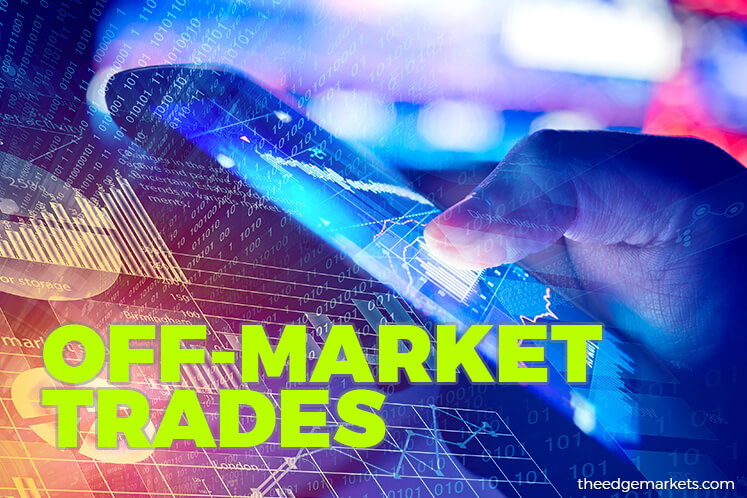 BEVERAGE products manufacturer Power Root Bhd saw a total of 17.5 million shares or 5.4% equity interest change hands through direct deals on March 26. According to Bloomberg data, the shares were transacted in five blocks at RM1.16 per share for a total of RM20.3 million. Filings with Bursa Malaysia show that on March 26, Wong Tak Keong acquired 1.5 million Power Root shares, Datuk How Say Swee acquired two million shares, and Datuk Wong Fuei Boon acquired three million shares.
Tak Keong is the managing director of Power Root, while How and Fuei Boon are executive directors. The off-market transaction price was at a 10% discount to Power Root's closing market price of RM1.29 on March 26.  Power Root closed at RM1.37 last Wednesday, a decline of 26% year to date.
Meanwhile, Xian Leng Holdings Bhd, which is involved in breeding  ornamental fishes, saw three million shares, or a 3.77% stake, change hands in direct trades on March 26. The shares were crossed in two blocks of 1.5 million shares each at 62.5 sen per share, for a total of RM1.88 million. The transaction price was at a 10.6% premium to Xian Leng's closing price of 56.5 sen on the same day. The company returned to the black with a net profit of RM79,000 for its financial year ended Jan 31, 2018, from a net loss of RM3.88 million a year ago. This was partly attributed to an increase in revenue, which rose 20.8% to RM13.2 million on higher sales for both Arowana and stingray.
On March 27, Federal Furniture Holdings (M) Bhd saw 2.94 million shares, or a 2.82% stake, change hands at 42 sen apiece for a total of RM1.23 million. The share price of the furniture maker, which closed at 44 sen last Wednesday, has declined 19.3% year to date.
Property development firm Bertam Alliance Bhd saw 5.6 million shares, or a 2.71% stake, change hands in direct trades on March 23 at 30 sen apiece — a 25% discount to its closing price of 40 sen that day — for a total transaction value of RM1.68 million.
Last December, the group announced it was buying 1.71ha  of leasehold land in Penampang, Sabah, for RM16.3 million to undertake a condominium development with an estimated GDV of RM155 million.
Kitchen cabinet and wardrobe specialist Signature International Bhd saw 3.8 million shares, or a 1.66% stake, change hands in direct trades on March 23.  The shares were transacted in two separate blocks of 1.9 million shares each at 59 sen apiece. Closing at 57.5 sen last Wednesday, the counter has declined 18.4% year to date.  Co-founders — managing director Tan Kee Choong and group executive director Datuk Chooi Yoey Sun — each acquired 1.9 million Signature shares on March 23. Both are substantial shareholders with Tan holding 28.16% and Chooi, 28%.
Apex Equity Holdings Bhd, which owns stockbroking firm JF Apex Securities Bhd, saw 3.348 million shares, or a 1.65% stake, cross offmarket in a direct deal for RM3.68 million on March 26. The shares were traded at RM1.10 apiece, marginally higher than its closing price of RM1.09 that day.
A filing with Bursa shows that Lim Teck Seng, 48, who has been with the group since 2010, resigned from his position as executive director on March 26. On the same day the group appointed Zulazman Zulkifli, 50, who has over 20 years of experience in stockbroking and property, as an executive director. The group also announced the appointment of former Inspector-General of Police Tan Sri Dr Khalid Abu Bakar as a non-executive director.
Save by subscribing to us for your print and/or digital copy.
P/S: The Edge is also available on Apple's AppStore and Androids' Google Play.