This article first appeared in The Edge Malaysia Weekly, on May 6, 2019 - May 12, 2019.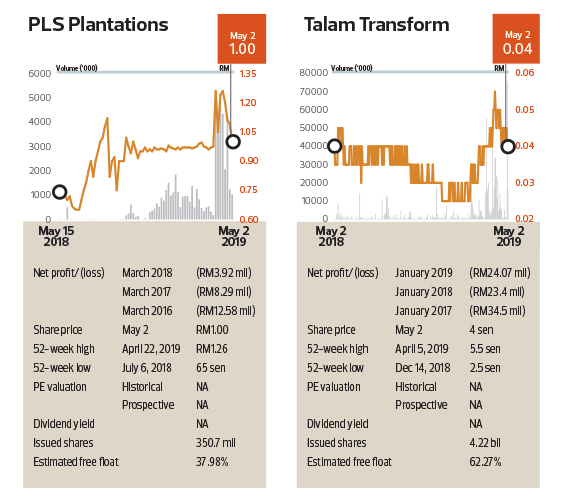 PLS Plantations Bhd — which is diversifying into durian plantations and their related businesses — saw a 2.9% stake or 10 million shares change hands in a single direct deal at RM1 per share, or RM10 million in total, on April 24.
The buyer was Ekovest Bhd, whose holding rose to 92.72 million shares or 26.4%, a stake PLS executive chairman Tan Sri Lim Kang Hoo is deemed interested in. The seller was Eric Chan Yee Hong, who emerged as a substantial shareholder on March 19 after being issued 24 million new PLS shares, or a 6.84% stake, at 75 sen apiece as payment for selling 40% equity interest in Dulai Fruits Enterprise Sdn Bhd for RM18 million.
On April 27, PLS and ZTE (M) Corp Sdn Bhd — a unit of China's telecommunications equipment company ZTE Corp — signed a heads of agreement (HoA) to cooperate in the use of blockchain, geolocation technologies, big data and artificial intelligence to enhance the productivity, output and competitiveness of PLS in the plantations business.
On the same day, PLS agreed to explore potential cooperation in durian-related businesses in two separate deals — one with FGV Holdings Bhd, and the other with Shanghai PTSKY Supply Chain Management Co Ltd, a pioneer in the frozen durian business in China.
Talam Transform Bhd saw a 9.48% stake or 400 million shares change hands in a single direct deal at a significant premium to open market prices last Tuesday. The block of shares changed hands at RM38 million or 9.5 sen apiece — more than double the day's closing price of four sen. The stock last closed at 9.5 sen in November 2014. Its unaudited net asset per share was 8.5 sen as at Jan 31 this year.
Non-executive director and major shareholder Tan Sri Chan Ah Chye @ Chan Chong Yoon bought the 400 million shares from WCE Holdings Bhd (formerly Kumpulan Europlus Bhd), being the second tranche that completes a share sale agreement dated Oct 17, 2014, according to an April 30 statement. Chan, who had a 14.41% direct stake and 15.62% indirect stake as at May 2 last year, was already deemed interested in the 400 million shares. Chan was formerly executive chairman prior to his redesignation on Jan 22, 2009.
On April 10, Talam received regulatory approval to place out up to a 10% stake, or just over 422 million new shares, at an indicative price of 4.5 sen per share to raise up to RM18.99 million. The placement is expected by end-June. Some RM2.5 million of the proceeds have been earmarked for the completion of the development of Seroja Apartments in Putra Perdana, Selangor, which will be put up for sale in October.
DWL Resources Bhd (formerly known as Spring Gallery Bhd) saw a 10.1% stake or 20 million shares change hands in six direct deals at RM18 million in total on April 26. The transacted price of 90 sen per share was the same as the closing price that day.
In a statement dated April 25, DWL said its director, Wan Khalik Wan Muhammad, intended to deal in DWL securities during the closed period in the run-up to the release of its third-quarter results ended March 31, 2019. His indirect equity interest, held via Total Sejati Sdn Bhd, was 10%, or 19.86 million shares, plus 15 million irredeemable convertible preference shares.
DWL shares have seen renewed interest, with the counter surging to RM1.70 on April 23 — more than doubling from less than 80 sen in early April. Its unit, Million Rich Development Sdn Bhd, signed an agreement with Gadang Holdings Bhd's unit on April 18 to set up a 30:70 DWL-Gadang consortium to tender for and undertake infrastructure projects.
On April 22, DWL said the consortium "has not yet submitted any official tender for ECRL (East Coast Rail Link) jobs".