This article first appeared in Capital, The Edge Malaysia Weekly, on December 16, 2019 - December 22, 2019.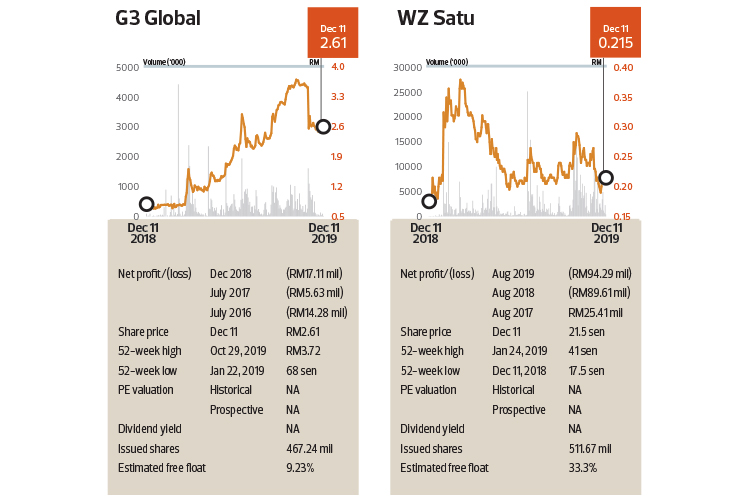 ON Dec 9, three Bursa Malaysia-listed subsidiaries of Petroliam Nasional Bhd (Petronas) saw millions of shares change hands off market.
At Petronas Gas Bhd (PetGas), 191.15 million shares, or a 9.66% stake, were traded off market at RM15.03 apiece or RM2.87 billion in total. Over at Petronas Dagangan Bhd (PetDag), 59 million shares, or a 5.94% stake, were transacted at RM22.43 apiece or RM1.32 billion in total.
At MISC Bhd, 228.27 million shares or a 5.1% stake changed hands at RM7.94 per share, or RM1.81 billion in total. Combined, the total transaction value for the three companies amounted to RM6 billion.
The national oil company said the trades were carried out as part of its portfolio management strategy and that it would allow for more local participation and ownership in the companies.
After the disposal, Petronas' stakes in MISC, PetDag and PetGas were reduced to 57.56%, 63.92% and 50.97% respectively.
On Dec 6, agrochemical and fertiliser distributor Hextar Global Bhd saw a block of 100 million shares, or a 12.19% stake, transacted via a direct deal at 78 sen apiece, or RM78 million in total.
The transaction price is at a 22% premium to Hextar Global's closing market price of 63.5 sen on Dec 5.
A filing with Bursa shows that the shares were disposed of by Waras Dinamik Sdn Bhd and acquired by Hextar Holdings Sdn Bhd. Both companies are vehicles of Hextar vice-chairman Datuk Ong Soon Ho and executive director Datuk Ong Choo Meng .
Hextar Holdings is the holding company of Waras Dinamik, which is the largest shareholder of Hextar Global."
Post-transaction, Waras Dinamik has a 57.01% stake in Hextar Global while Hextar Holdings has a direct interest of 14.62%.
On Dec 4, G3 Global Bhd saw 42.86 million shares, or a 9.17% stake, change hands at 10 sen apiece, or RM4.29 million in total.
G3 Global, which develops artificial intelligence and internet-of-things products, announced to Bursa that the shares were disposed by Chan Swee Ying and acquired by her husband, Chin Boon Long, via his interest in Fountainberry Sdn Bhd.
With the acquisition, Chin now has a 15.94% stake in G3 Global.
At Caring Pharmacy Group Bhd, a total of 18.67 million shares, or 8.58% of its share base, were transacted off market in direct deals at RM2.45 apiece between Dec 4 and 10.
Last month, 7-Eleven Malaysia Holdings Bhd announced its plans to acquire 55.2 million shares, or 25.35% equity interest, in Caring Pharmacy via its subsidiary Convenience Shopping (Sabah) Sdn Bhd, for RM2.60 per share or a total cash consideration of RM143.51 million.
Upon completion of the proposed acquisition, the aggregate shareholding of Convenience Shopping and parties acting in concert with it in Caring will increase from 13.22% to 38.57%.
Over at WZ Satu Bhd, 41.19 million shares, or an 8.05% stake, were traded on Dec 4.
Filings with Bursa show that the shares were disposed by WZ Satu executive chairman Tengku Uzir Tengku Ubaidillah, and acquired by Ikhlas Kamarudin via his vehicle Citaglobal Energy Resources Sdn Bhd at 22 sen per share, or RM9.06 million in total.
Ikhlas, who joined the board of WZ Satu on Oct 30 as non-executive director, is the head of the Islamic travel business in AirAsia.com, in charge of umrah and Muslim-friendly travel. He is the son of AirAsia Group Bhd co-founder and executive chairman Datuk Kamarudin Meranun.