This article first appeared in Capital, The Edge Malaysia Weekly, on January 8, 2018 - January 14, 2018.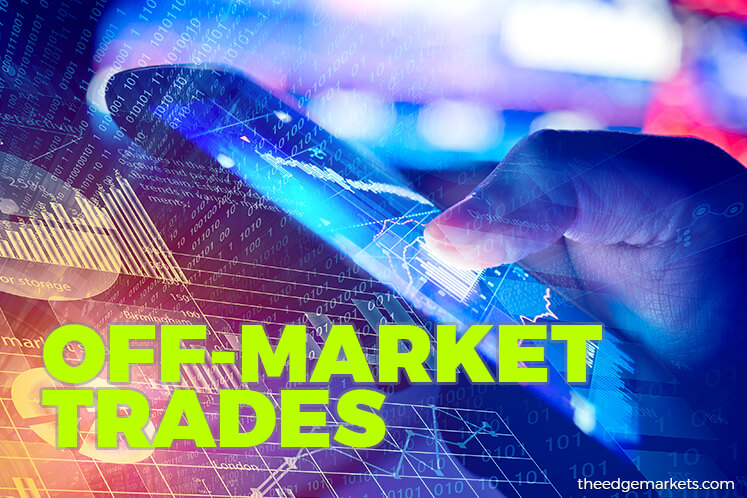 MyEG Services Bhd group managing director Wong Thean Soon accumulated more shares in the company during the period under review. He bought 8.5 million shares or a 0.23% stake off market on Jan 2 for RM2.25 apiece, raising his equity interest in MyEG to 39.52%. The stock surged as much as 7.2% the day after the transaction.
Wong's purchase came after news on Dec 28 that the Competition Appeal Tribunal (CAT) had dismissed MyEG's appeal against a fine imposed by the Malaysian Competition Commission.
The RM6.4 million fine, which included a daily penalty from January to October 2015, was imposed on MyEG for allegedly abusing its dominant position in online foreign worker permit renewal. The company had announced that it intended to seek a judicial review and stay of CAT's decision.
Meanwhile, poultry company DBE Gurney Resources Bhd saw 20 million shares traded directly on Dec 29 and another 50 million on Jan 2 at 2.5 sen per share. The traded shares amounted to a 2.61% stake in the company. The counter has fallen over 22% over the past year.
Last month, the company saw the entry of a new substantial shareholder — Doh Properties Holdings Sdn Bhd — with an 8.76% stake via the conversion of redeemable convertible notes. Doh Properties is the vehicle of the Datuk Doh Jee Ming, Datuk Doh Tee Leong and Datuk Doh Jee Chai, who are sons of Ipoh-based businessman Datuk Doh Neng Chiong.
The emergence of Doh Properties diluted the shareholding of group managing director Datuk Ding Seng Huat, who held 10.94% of DBE Gurney, according to its latest annual report. He is no longer a substantial shareholder of the company.
The company incurred a loss of RM3.99 million on flat revenue in its third quarter ended Sept 30, 2017, which took its nine-month period into red territory to the tune of RM3.77 million. Between January and end-September, revenue rose a marginal 1.1% to RM84.86 million.
On Dec 29, over 28.5 million shares or nearly 10% of ACE Market-listed Sterling Progress Bhd's outstanding shares were traded directly at 35 sen apiece. The buyer was SEG Capital Intelligence Sdn Bhd, the vehicle of Oon Yeung Hwa and Ng Chee Heng, who emerged as substantial shareholders in the company.
SEG Capital paid a 45.8% premium to Sterling's Dec 28 closing price of 24 sen. It is unclear who sold the shares. A day earlier, a 2.6% stake or roughly 7.5 million shares were traded off market for 19 sen to 21 sen each. Between Dec 3 and Jan 3, the counter surged 50% to 26.5 sen.
On Dec 27 and 28, apparel and clothing firm Cheetah Holdings Bhd saw 11.5 million shares worth RM5.75 million sold off market in blocks of 480,000 shares or more. Some 5.5 million of the shares were sold by Lembaga Tabung Haji, reducing its holding to 3.84 million shares or a 3.33% stake. Prior to the sale, LTH held 8.03% of Cheetah.
In its first quarter ended Sept 30, 2017 (1QFY2018), Cheetah posted a bigger loss of RM2.74 million as revenue dropped 19.1% to RM20.7 million. For its full year ended June 30, 2017 (FY2017), its profit fell 21.5% year on year to RM1.78 million while revenue was flat at RM125.7 million.
On Dec 29, PN17 company Maxwell International Holdings Bhd saw 16 million shares or a 4.01% stake transacted directly off market at 1.5 sen apiece. The seller was non-executive director Jenny Li Kwai Chun, who also sold five million shares on the open market.
Li, who founded the shoemaking firm, was president until her redesignation as a non-executive director on July 31 last year. She had been steadily reducing her 58.3% stake since August. After the Dec 29 sale, she retains 106.02 million shares or a 26.58% stake in Maxwell.
Save by subscribing to us for your print and/or digital copy.
P/S: The Edge is also available on Apple's AppStore and Androids' Google Play.