This article first appeared in Capital, The Edge Malaysia Weekly, on November 5, 2018 - November 11, 2018.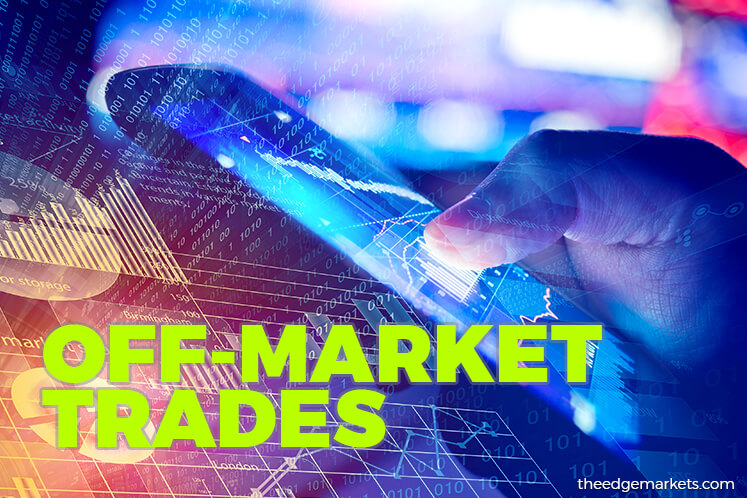 ON Oct 24, MyEG Services Bhd saw 50 million shares or a 1.4% stake change hands for RM66.5 million or RM1.33 each in a single direct deal. The block, transacted off market, exceeded the counter's volume of 39.6 million shares on the open market that day, which saw the stock trading at between RM1.29 and RM1.34 before closing at RM1.32.
Filings with Bursa Malaysia show the disposal by its largest shareholder, Asia Internet Holdings Sdn Bhd — controlled by MyEG executive chairman Datuk Norraesah Mohamad and co-founder and managing director Wong Thean Soon — was a "crossing of shares pursuant to a financing arrangement". Wong still has a direct holding of 8.65% and an indirect stake of 29.41% in the e-services provider while Norraesah has a direct stake of 0.73% and indirect holding of 27.87%.
Closing at RM1.20 last Wednesday, MyEG shares had fallen 46.2% or RM1.03 year to date.
ACE Market-listed SCH Group Bhd saw 20 million shares or a 3.6% stake change hands in a single direct deal for RM2.5 million or 12.5 sen apiece on Oct 30, which was within the 12 to 13 sen range they were fetching on the open market that day.
Filings show that the buyer was largest shareholder, Hextar Holdings Sdn Bhd, which saw its direct holding increase to 171.73 million shares or 30.91% after the deal. Datuk Ong Choo Meng is deemed interested in Hextar's stake.
Just five days earlier on Oct 25, managing director and deputy chairman Lau Mong Ling had sold 2.8 million shares at 22 sen each — at a more than 50% premium to the 14 sen to 14.5 sen apiece they were fetching on the open market that day. The 22 sen transaction price was also significantly higher than what Hextar paid. The disposal pared Lau's holding to 3.07 million shares or a 0.55% stake.
Hextar emerged as a substantial shareholder on July 16 after buying 60 million shares or a 12.7% stake pursuant to a private placement at 15 sen apiece. On July 23, Hextar raised its holding to 24.84% after buying 68 million shares from Thianjing Holdings Sdn Bhd.
At last Wednesday's closing price of 12.5 sen, SCH shares had fallen 36% year to date.
Tiger Synergy Bhd saw 15 million shares or a 2.5% stake change hands in a single direct deal off market for RM1.53 million or 10.2 sen on
Oct 24, more than double the 4.5 sen to five sen apiece the stock was fetching on the open market that day. The buyer and seller are unknown. Closing at 6 sen last Wednesday, the stock had declined 62.5% year to date.
Globaltec Formation Bhd saw 26.46 million shares change hands for RM1.19 million or 4.5 sen each in seven direct deals between Oct 24 and 26. Four direct deals totalling 15.96 million shares matched the number of shares bought by group executive chairman and founder Tan Sri Goh Tian Chuan on Oct 26. The purchase raised his holding to 19.81%, filings show. Closing at four sen last Wednesday, the stock was down 20% year to date.
Meanwhile, the priciest off-market transactions for the week in review were of the 20.9 million shares, amounting to 0.26% equity interest, in Petronas Chemicals Group Bhd that changed hands in direct and crossed trades for a total of RM195.07 million.
The largest tranche was a single direct deal on Oct 30 of 12.89 million shares or a 0.16% stake that changed hands for RM120.5 million or RM9.35 each. The rest of the shares changed hands in cross deals at prices ranging from RM9.24 to RM9.35 apiece from Oct 25 to 30. Closing at RM9.35 last Wednesday, the stock was up 21.43% year to date.
Save by subscribing to us for your print and/or digital copy.
P/S: The Edge is also available on Apple's AppStore and Androids' Google Play.