This article first appeared in Capital, The Edge Malaysia Weekly, on November 11, 2019 - November 17, 2019.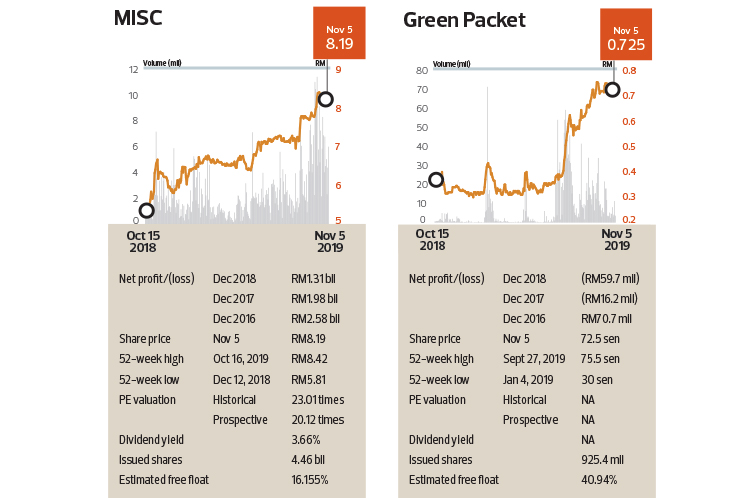 A total of 72.06 million shares, or a 1.65% stake, of MISC Bhd were transacted via multiple off-market deals at RM8.08 apiece, or RM582.26 million in total, on Nov 5. The transacted price was at a slight discount to the stock's closing price of RM8.19 that day.
At the time of writing, the parties involved in the transactions were not known. However, only three shareholders had more than 70 million shares as at Feb 27, according to MISC's latest annual report. They were Petroliam Nasional Bhd, with 2.8 billion shares or a 62.67% stake; the Employees Provident Fund, with 256.88 million shares (5.75%); and Permodalan Nasional Bhd (PNB), with 213 million shares (4.77%).
MISC's share price has rallied since hitting a multi-year low of RM5.81 on Dec 12, 2018. Its close of RM8.19 — giving the company a market capitalisation of RM36.6 billion — last Tuesday means that it has gained 41% in about 11 months.
In the first six months of its financial year ending Dec 31, 2019 (FY2019), MISC recorded a 48.5% y-o-y increase in profit after tax to RM917.9 million as revenue grew 6.6% to RM4.44 billion. This was despite a 42.6% increase in impairments and finance costs, based on figures disclosed to Bursa Malaysia. Third-quarter results are due for release later this month.
For FY2019, MISC's revenue is forecast at RM9.63 billion and profit at RM1.81 billion, according to the mean estimate compiled by Bloomberg of 15 analysts tracking the company.
Green Packet Bhd saw a total of 43 million shares traded in multiple off-market deals on the first three trading days of this month. The volume was equivalent to 4.65% of the company's outstanding share base.
The transacted price was 75 sen per share, or RM32.25 million in total. The stock closed at 73 sen on Nov 1 and 4 before slipping to 72.5 sen on Nov 5. At the time of writing, the parties involved in the deals were not known.
As at March 22, only two shareholders directly controlled more than 40 million Green Packet shares each, according to the company's latest annual report. They were Green Packet Holdings Ltd, with 169.2 million shares or an 18.77% stake, and Puan Chan Cheong, with 91.58 million shares (10.16%). Puan is also deemed interested in Green Packet Holdings' stake.
Over the past one year, Green Packet's share price has risen about 130%. As at Nov 5, its market capitalisation was RM670.9 million.
Last Monday, 4.12 million shares, or a 1% stake, of G3 Global Bhd were transacted off market at RM3.60 apiece, or RM14.83 million in total.
The transacted price was at a premium of two sen to the counter's close of RM3.58 that day. The stock has risen 306% over the past one year, hitting a market capitalisation of RM1.49 billion last Tuesday.
A total of 150 million shares of Sime Darby Bhd were traded in a single transaction on Oct 31 at RM2.27 apiece, or RM340.5 million in total. The stock closed at the same price that day.
According to Bursa filings, the shares were sold by Amanah Saham Bumiputera (ASB) to its manager, PNB. The acquisition raised PNB's holding past the 5% threshold to 6.49% or 441.55 million shares. ASB remains the single biggest shareholder in Sime Darby after the sale, with 2.745 billion shares or a 40.37% stake.
PNB's funds, including ASB, declare dividends on a quarterly basis. The next dividend announcement is due end-December.